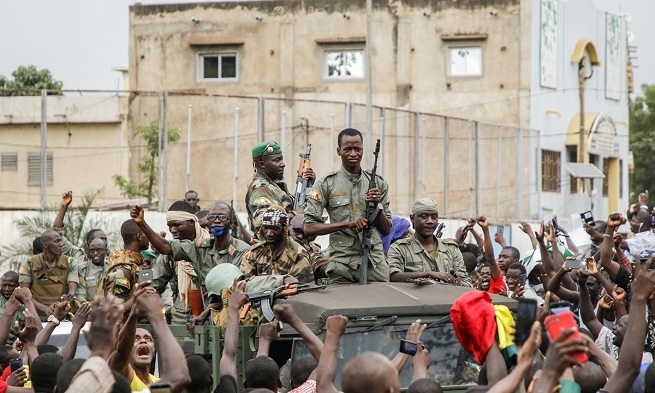 Armed members of the Malian Armed Forces celebrate as they parade at Independence Square in Bamako on Tuesday after rebel troops seized Malian President Ibrahim Boubacar Keita and Prime Minister Boubou Cisse after months-long crisis. (AFP
By Baba Ahmed and Krista Larson
BAMAKO,
MALI'S President announced his resignation late Tuesday hours after mutinous soldiers detained the President and Prime Minister on Tuesday after surrounding a residence and firing into the air in an apparent coup attempt after several months of demonstrations calling for President Ibrahim Boubacar Keita's ouster. The news of President Ibrahim Boubacar Keita's departure was met with jubilation by anti-Government demonstrators and alarm by former colonial ruler France, and other allies and foreign nations.
Speaking on national broadcaster ORTM just before midnight, a distressed Keita, wearing a mask amid the COVID-19 pandemic, said his resignation — three years before his final term was due to end — was effective immediately. A banner across the bottom of the television screen referred to him as the "outgoing President." "I wish no blood to be shed to keep me in power," Keita said.
"I have decided to step down from office." He also announced that his Government and the National Assembly would be dissolved, certain to further the country's turmoil amid an eight-year Islamic insurgency and the growing coronavirus pandemic.