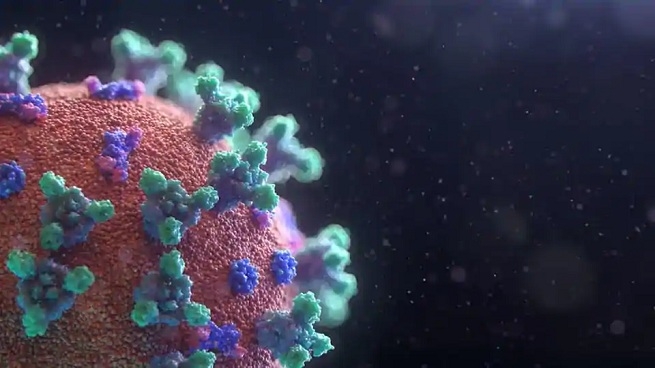 NEW DELHI,
FB post of Malaysian Director General of Health created a flutter which claimed that the D614G strain of the virus discovered in Malaysia from a cluster "found to be 10 times more infectious and is easily spread by an individual super spreader"
THE mutant form of the novel coronavirus reported from Malaysia as being "10 times more infectious" is not a concern for India as it is widely prevalent here and isn't any more virulent than the strain originating in Wuhan, say scientists.
The D614G strain of the virus was discovered in Malaysia from a cluster, including a restaurant owner returning from India, the country's Director General of Health said in a Facebook post this week. His assertion that it was "found to be 10 times more infectious and is easily spread by an individual super spreader" created a flutter but scientists here dispelled fears and said there is nothing to worry about. According to virologist Upasana Ray, the mutation may have just been reported in Malaysia but is not new for the world.
"We saw it happening in April and it eventually dominated many countries. It is new for Malaysia but is not a new mutation," the senior scientist at Kolkata's CSIR-Indian Institute of Chemical Biology told PTI. While some reports claim the mutation is capable of enhancing the infectivity of the virus, this is not well established and also does not necessarily indicate more virulence or harmfulness of the disease. Ray said even a highly infectious and transmissible variant of the virus might actually have a lesser ability to cause disease in humans. In July, a study in the journal Cell by scientists, including Bette Korber from the Los Alamos National Laboratory in the US, noted that a variant of the novel coronavirus, dubbed 'D614G', can infect more lab-grown cells than other strains.
The study said this mutant -- in which a molecule 'aspartic acid' (denoted as D) is replaced by another building block 'glycine' (G) -- had quickly taken over as the dominant strain across the world soon after it first appeared, and grew more rapidly in lab-grown cells. This mutation is part of the spike protein that the novel coronavirus uses to enter host cells.
No proof of COVID-19 relapse in recovered patients: Experts
PUNE,
Aug 20 (PTI)
DOCTORS and clinical investigators involved in treating coronavirus infection have claimed that there was no evidence of the disease recurring in people who have recovered from it. However, Dr Giridhar Babu, who is part of ICMR's research task force on Epidemiology and Surveillance, said that it is difficult to say confidently where or not there is relapse in recovered patients as some signs post-recovery can be confused with COVID-19 symptoms.
One has to establish that the coronavirus has caused new infection in a recovered patient, he said. "We are up against evidence from all over the world where we are seeing there is no re-infection so when we say that is happening only in India then it maybe something new," Babu said. Dr Swapnil Kulkarni, a chest specialist at the pulmonology department of Mumbai-based KEM Hospital, said that there is no definitive evidence of re-infection in recovered patients.
"There were reports from China earlier this year about recurrence of the infection, but no further information was received on that and other than that there were no reports of relapse," said Kulkarni, who has been treating COVID-19 patients in Pune.