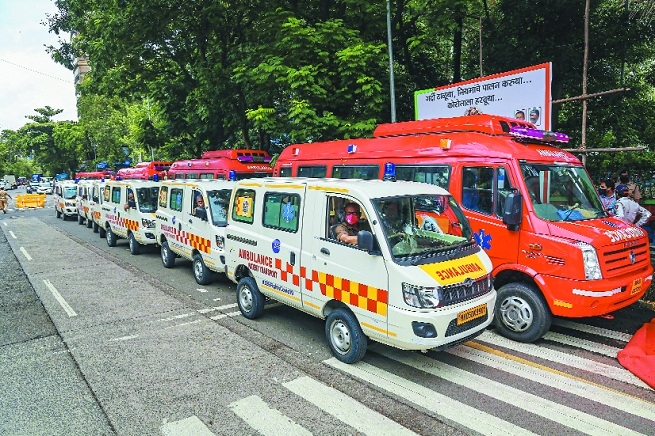 A fleet of ambulances which was launched Maharashtra CM Uddhav Thackeray in Thane on Monday. (PTI)
By Payal Banerjee and Prashant Rangnekar
A corpus of nearly Rs 3,000 crore to be allocated for mission
NEW DELHI,
TO ACCELERATE the process of developing and manufacturing safe and effective COVID-19 vaccines in the country that can be easily accessible and affordable for the public, a 'Mission COVID Suraksha' has been proposed to be set up with a corpus of nearly Rs 3,000 crore, sources said. Piloted by the Department of Biotechnology, the proposed mission will focus on end-to-end vaccine development from clinical trial stage to regulatory facilitation to manufacturing, sources added. The aim of the mission is to accelerate the development of at least six vaccine candidates and ensure that they are licensed and introduced in market for emergency use at the earliest, they said. While there is no official word on the proposed mission as yet, multiple officials confirmed that a proposal has been made.
A senior official said this is still in "a proposal stage". According to the draft proposal, the mission has been proposed to have a timeline of 12-18 months and a budget of approximately Rs 3,000 crore. The proposed mission will also look to ensure that sufficient volumes are manufactured to meet India's COVID-19 vaccine requirement and to introduce it in public health systems of the Ministry of Health post the approval by the National Technical Advisory Group on Immunisation. It is now imperative that the vaccine development and manufacturing is taken up "in a mission mode and not in a project mode", the draft proposal said.
'3.6 crore COVID-19 tests so far'
NEW DELHI,
Aug 24 (PTI)
INDIA'S COVID-19 tests per million rose sharply to 26,016 as cumulative tests surged to 3.59 crore, the Health Ministry said on Monday underlining that a key component in India's COVID-19 response has been early identification of cases by timely and aggressive testing. The number of people recuperating from COVID-19 has crossed 23 lakh pushing the recovery rate to over 75 per cent, while the case fatality rate, maintaining a steady downward trajectory, has further dropped to 1.85 per cent, it said. "A key component in India's response to the COVID-19 pandemic has been early identification of positive cases by timely and aggressive testing," the Ministry said.