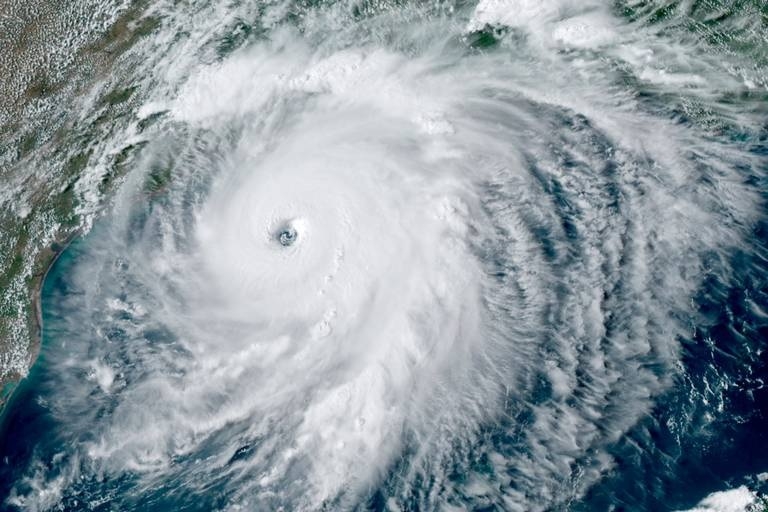 ONE of the most powerful storms to ever hit the US, hurricane Laura has made landfall in Louisiana, bringing catastrophic storm surge, extreme winds and flash flooding that killed at least six people and left a trail of destruction across the State.
Laura came ashore as a Category 4 storm and made landfall near Cameron in Lousiana, about 35 miles east of the Texas border, tearing off roofs while knocking out power to hundreds of thousands. The storm left six people dead in Louisiana, including at least four from falling trees. Among the deceased are a 14-year-old girl and a 68-year-old man, according to a senior official.
Hurricane Laura made landfall overnight near Cameron, Louisiana, bringing "catastrophic storm surge, extreme winds and flash flooding" to portions of the State, the National Hurricane Center said on Thursday. The storm, with a maximum wind speed of 150 miles per hour, had intensified rapidly into a Category 4 hurricane before slamming into the Gulf Coast near the Louisiana-Texas border. By mid-Thursday, the hurricane weakened to a tropical storm as it moved north over Louisiana, which took the brunt of the damage. It was continuing to bring strong winds and flooding
rainfall to northern Louisiana and southeastern Arkansas, according to forecasters.
The bulk of the damage was reported in Louisiana. The storm barrelled over Lake Charles in Louisiana, an industrial and casino city of 80,000 people. Widespread power outages across Louisiana and Texas are increasing with more than 8,40,000 people already without electricity. Louisiana is experiencing the worst of the outages with almost 6,00,000 people without electricity.
President Donald Trump is expected to visit the Gulf Coast this weekend to survey the destruction caused by one of the catastrophic hurricanes in living memory. Speaking at the Federal Emergency Management Agency headquarters, hours before the final night of the RNC, Trump said the campaign briefly considered postponing his convention speech until Monday so he could travel to survey the damage, but ultimately decided to continue with the speech.