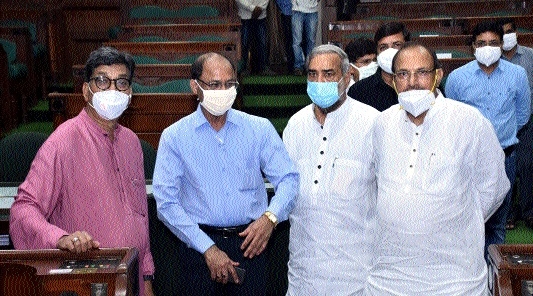 Speaker Dr Charan Das Mahant along with RDA Chairman Subhash Dhuppad and Chhattisgarh State Khadi & Gramodyog Board Chairman Rajendra Tiwari and Principal Secretary C S Gangrade while carrying out inspection of Househ.
Staff Reporter ;
RAIPUR,
Speaker Dr Charan Das Mahant has assured that during the forthcoming Monsoon Session, the principles of social/physical distancing will be complied with strictly. These views were observed by the Speaker while carrying out inspection of the Chhattisgarh Legislative Assembly. After inspecting the House, Speaker Dr Charan Das Mahant directed the Assembly Secretariat officials that during the Monsoon Session, the principles of social/physical distancing will be followed strictly not only in the House but also in the Assembly campus as well. He directed the officials to make necessary preparations as per the guidelines and protocols issued by the central and state government for prevention and control of Novel Coronavirus COVID-19 (SARS-CoV-2) pandemic.
Dr Mahant further added that in the current scenario, whatever measures are necessary for ensuring prevention and control of COVID-19 infection, should be complied with. He also directed to properly sanitize the House as well as the Assembly annex on a daily basis when the Session is in progress. Chandra Shekhar Gangrade Principal Secretary along with other senior officials of the Assembly Secretariat, senior officials from the PWD department were present on the occasion.
It may be recalled that the notification for the commencement of Seventh Session (Monsoon Session) of the Fifth Chhattisgarh Legislative Assembly was issued on July 31, 2020. As per the notification, the Monsoon Session comprising of total four meetings, will commence from August 25, 2020 and will continue till August 28, 2020. It would be interesting to see how the House functions amidst the threat of COVID-19 infection. Despite all restrictions, the proceedings will be tumultuous as the opposition has several burning issues like sloppy handling of COVID-19 situation in the state, distribution of food grains to poor and needy people, conditions at quarantine centers, conditions at COVID Care Centres and COVID Hospitals, distribution of MSP arrears, etc., wherein, it would try to corner the ruling Congress Government. At the same time the Treasury benches will also gear up for countering the opposition onslaught.