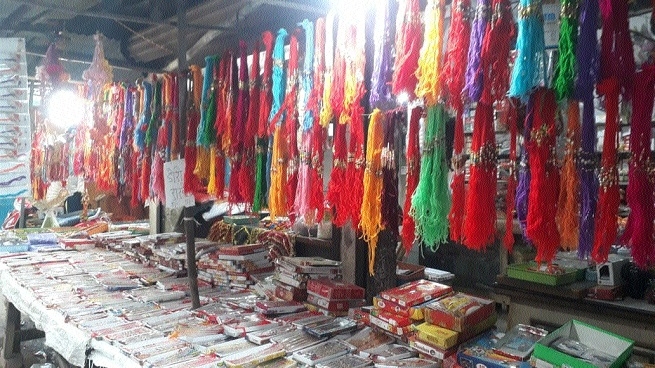 Variety of rakhis displayed before a shop in Supela market.
(More related reports on Page 8) (Pic by Bhopal Dewangan)
Staff Reporter ;
Bhilai,
Amid COVID-19 pandemic, markets and other commercial establishments in Twin City, Bhilai and Durg have recorded a considerable drop in sales of rakhi, sweets and other festive paraphernalia's this Rakshabandha. Rakshabandhan is scheduled to be observed on Monday across the city. But, the city based shopkeepers and small vendors are in gloomy state and markets in the city still wear a deserted look. Even the sale of rakhis that peak ahead of the festival has seen a sharp decline.
There was low footfall on the sweet shops and rakhi stalls as compare to previous years and city residents were hesitant to touch anything laid out even though bottles of sanitisers were placed alongside for public use. Rajan Chaudhary, who runs a gift shop at Supela market, has informed that they have been running the rakhi business for generations. But, they have never suffered such a kind of hit. Even, their regular customers who used to come from nearby locations for wholesale shopping have not come this year. He added that this year Chinese-made rakhis are also off the markets as no import could take place due to the Covid-19 and the tensions between the two nations.
Celebrations will be subdued as people are not opting to go to each other's places due to the fear, resulting in a huge slump in Rakhi sales, claim the local shopkeepers. Due to a cash crunch, many people are not buying gift baskets that brothers would usually get for their sisters. On the other hand, Sweetshop owners, who were relieved by the Government's decision to reopen confectionaries in morning hours, have reported poor sales amid the Covid-19 pandemic.
If majority of sweets shops and hotel owners are to be believed that they had never witnessed such slowdown in the market during Rakshabandhan and the festive fervour was conspicuously missing from the markets. Few shopkeepers said they were still witnessing an unprecedented slowdown in the countdown to the festival. "Only 40-50% food stuffs and delicacies are being prepared in comparison to last year, but business has improved a bit ahead of Rakshabandhan, as city residents have started purchasing sweets. We are taking all precautions to avoid spread of infection", informed Sachin Kesarwani, who runs a sweet shop in Power House market.