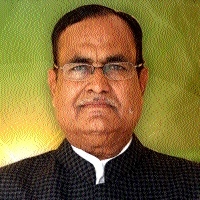 Former Chhattisgarh Legislative Assembly Speaker and senior Bharatiya Janata Party Leader Gaurishankar Agrawal has been tested COVID-19 positive. After feeling difficulty in breathing followed by fever prompted him to get tested for COVID-19 infection, which tested positive. After being tested positive, Gaurishankar Agrawal gave the information through a tweet. He said on experiencing initial symptoms like that of COVID-19 infection, he got himself tested and the report came positive.
Through his tweet he also urged all the people who're in close contact with him to get themselves isolated and tested for COVID-19 infection at the earliest. The former Speaker has been taken to All India Institute of Medical Sciences, Raipur for treatment and has been admitted there. Samples of the other four family members of the former Speaker were also tested but all were found negative.
It has been stated that Agrawal was suffering from fever and breathlessness since last two days. His samples were sent for testing at COVID-19 Testing Laboratory at Lalpur and it was tested positive. The former Speaker however added that since the last few days he was in the house and had not ventured out. Now it remains to be seen from where he got infected.