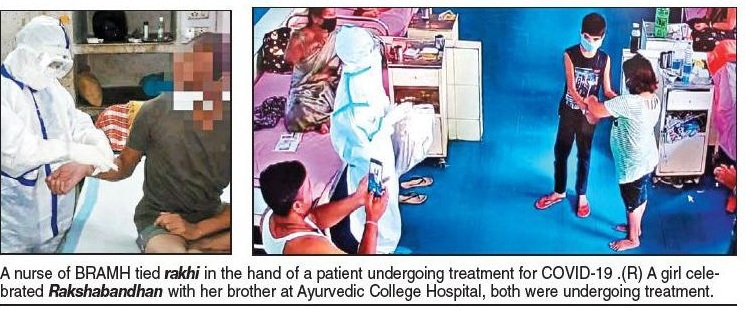 Staff Reporter :
RAIPUR,
On duty nurses of Dr BR Ambedkar Memorial Hospital (BRAMH) tied rakhi on the wrists of corona patient on the occasion of Rakshabandhan, this way they fulfilled responsibility of a sister. The nursing staff performed duties as sisters, and tied silk threads as rakhis on the wrists of the brothers admitted as patients in the specialised Covid ward of Dr Bhimrao Ambedkar Memorial Hospital (BRAMH) on the occasion of Raksha Bandhan. All the brothers who were getting treated in Covid ward were happy to get the nursing staff as their sisters who are taking care of them during treatment in the hospital.
The Corona Warriors nursing staff of the hospital, who are being called as Sister, today performed the duty of being a sister along with medical service. The sisters tied a Rakhi with PPE kit on the wrist of patients admitted in all the Covid wards.
Due to duty for the last few days in the Corona ward, the desire to tie a Rakhi on the wrist of the brother was fulfilled even for those nursing staff who could not go home on this holy festival of siblings.