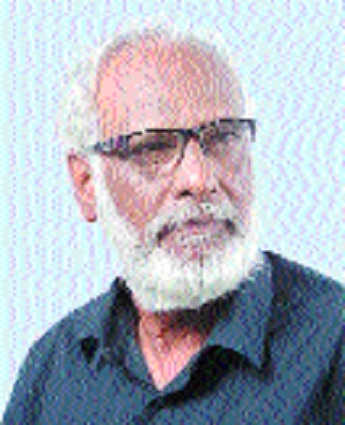 Chandrakant Channe
Principal Correspondent :
Noted artist Chandrakant Channe to receive Rashtrasant Tukadoji Maharaj Jivan Sadhana Puraskar
Rashtrasant Tukadoji Maharaj Nagpur University (RTMNU) will be celebrating its 97th foundation day on Tuesday at 11 am on-line. Dr S C Sharma, Director of National Assessment and Accreditation Council (NAAC) will be the chief guest. Dr Subhash Chaudhary, Pro-Vice-Chancellor (Officiating) will be the guest of honour. Dr Murlidhar Chandekar, Vice-Chancellor of RTMNU will preside over the function.
This year the prestigious Rashtrasant Tukadoji Maharaj Jivan Sadhana Puraskar will be conferred upon well-known artist 'Basoli' fame Chandrakant Channe. The declaration of the award would be made at the programme.
Channe to get the award ceremoniously after Covid-19 pandemic situation normalises. Ankush Shikshan Sanstha has been selected as the Ideal Educational Institute. The employees and staff those to be honoured include Satish Murmare, Assistant Registrar of Professional Examination department (Ideal Officer); Ideal non-teaching employee award: Nitin Kharbade (General Administration); Ganesh Rathod, library premises, Bar S K Wankhede Education College; Manoj Malkapure, Library Assistant, V M V College, Wardhman Nagar; Manoj Meshram (University and College Tribunal) (Principal Balraj Aher memorial ideal non-teaching employee gold medal. Intra-University Colleges annual magazine contest: 'The Clock Talk' of Laxminaryan Institute of Technology (LIT); 'The Hislopian' of Hislop College; 'ARCEON 19' of Shri Ramdeobaba College of Engineering and Management (RCOEM). District-wise consolation prizes: Nagpur rural- Unmesh of Taywade College, Mahadula, Koradi; Bhandara- Unmesh of J M Patel Arts, Commerce, Science College; Gondia- Yuvaspandan- Bhavbhuti College, Amgaon; Gondia district- Prerna of Natwarlal Maniklal Dalal College of Arts and Commerce, Law and Management; Wardha- Vaidnyanik of Jankidevi Bajaj Science College; Jalgaon- Manas of Shri Sant Gadgebaba Hindi Mahavidyalaya, Bhusaval.
Ideal Student award: Boys- Sanjay Ghormode, Institute of Science; Anirban Mukherjee, Dada Ramchadra Bakhru Sindhu Mahavidyalaya; Girls- Dipali Tekam, Dr Babasaheb Ambedkar College of Law of RTMNU; Dilprit Kaur Vikramsingh Sokhi, LAD College. Those interested can participate through https://global.gotomeeting.com/join/816606197 The link for live telecast is: https://YouTube.com/rashtrasanttukadojimaharajnagpurunivesity