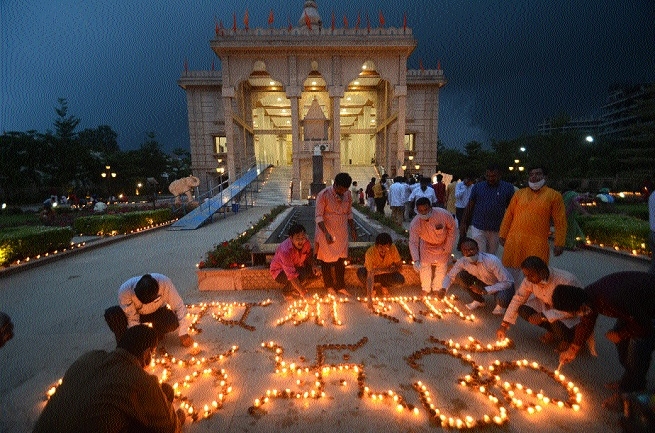 Deepotsav being celebrated at Shriram Mandir, VIP Road Raipur on Wednesday.
Staff Reporter ;
RAIPUR,
People from maternal place of Lord Ram were filled with joy on Wednesday as Prime Minister Narendra Modi laid the foundation stone for a grand temple at the site believed to be the birthplace of Lord Ram at Ayodhya in Uttar Pradesh on Wednesday.
Chhattisgarh Governor Anusuiya Uikey and Chief Minister Bhupesh Baghel have conveyed their heartfelt greetings to the people of the country on the occasion of bhoomipujan of Ram temple in Ayodhya on Wednesday. In her message, the Governor said, "Prime Minister Narendra Modi performed bhoomipujan for Ram temple in Ayodhya and it was a historic moment for the people in the country. Lord Shri Rama is a role model for the humanity irrespective of caste, creed and boundaries." "Lord Ram's life conveys the message of cultural and national unity. Lord Ram is the symbol of faith for all of us. Each moment of his life gives us new learning. Chhattisgarh is considered to be the maternal place of Lord Rama. Ram had spent several years during his exile period in Chhattisgarh.
There is also an ashram of Maharishi Valmiki, who composed the Ramayana in Turturiya. This is a moment of great happiness for the people of Chhattisgarh," Uikey has prayed to Lord Ram for happiness and prosperity of State and the country should come out from the corona crisis soon. Chief Minister Baghel tweeted, 'Jai Siya Ram!' I pray to the birth place of Lord Ram on the behalf of Lord Ram's Karmabhoomi Chhattisgarh. Let Lord Ram bless all and give us the strength to follow his ideals." President of Chhath Mahaparv Aayojan Samiti Mahadev Ghat Rajesh Singh said that the dream of Hindus turned into reality when Prime Minister Narendra Modi performed bhoomipoojan for a grand temple in Ayodhya.
BJP Raipur District President Rajiv Kumar Agrawal and BJP State Spokesman Sanjay Shrivastava said that August 5 will be written in Indian history after Prime Minister Narendra Modi laid the foundation stone for construction of Ram temple in Ayodhya. Congress leader Ghanshyam Raju Tiwari said that the much awaited demand of Hindus was fulfilled on Wednesday and it is a matter of joy for the people of Chhattisgarh, which is the land of Lord Ram's mother Kaushalya. Lord Ram along with Sita and Laxman had spent maximum time during their exile in Chhattisgarh. The people of Chhattisgarh always want a grand Ram temple in Ayodhya, Tiwari added.
The office-bearers of Shriram Mandir Samiti VIP Road said that it was a historical day in the country when the bhoomipujan was performed for construction of a grand Ram temple in Ayodhya. The Shriram Mandir Samiti celebrated "Deepotsav" at the Mandir campus on the occasion of laying foundation ceremony on Wednesday. 9000 lamps were lit at the Shriram Mandir. SPS Raipur President Ajay Tiwari, CA Chetan Tarwani and other people said that Ayodhya would become religious capital of the world after the construction of Ram temple. Devotees danced to tune of devotional songs and expressed their happiness for the beginning of the construction of Ram temple.
Social media was also full of greetings for the beginning of construction of Ram temple in Ayodhya. People including children burst crackers and expressed their joy in the State capital on the occasion. Meanwhile, posters extending greetings to the people for bhoomipoojan of construction of the much awaited Lord Ram's temple in Aydodhya came across all over the state capital. These posters were installed by various Hindu organisations and people having allegiance different political parties. Bajrang Dal, Vishwa Hindu Parishad, Bharatiya Janata Party, Congress party and several organisations installed posters on the walls of the city roads in the State capital, expressing joy for the bhoomipujan ceremony for construction of Ram's grand temple at Ayodhya.
Several posters carrying the pictures of Chief Minister Bhupesh Baghel and Raipur West MLA Vikas Upadhyay were installed by the Congress workers, in which it has been said that former Prime Minister and Congress leader Rajiv Gandhi's dream would be fulfilled with the bhoomipoojan for construction of grand Ram temple at Ayodhya on Wednesday. Meanwhile, a senior citizen said that Ram abolished the political divide among the political leaders as they are all extending greetings on this occasion cutting across party line. Ram is beyond the political, religious and communal divide, he is the essence of life of the people believing in sanatan dharm. Ram does not belong to any political ideology but he is the ideology himself. Let his ideology prevail, Ramrajya prevail in the world, he said.