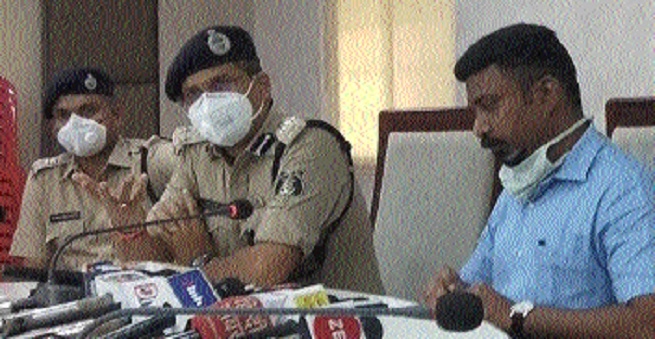 District Collector Dr S Bharathi Dasan and SSP Ajay Yadav holding a meeting with traders on Thursday.
Staff Reporter ;
Raipur,
Markets to open shift wise 6 days a week
All the business shops/establishments asked to keep face masks and sell it to customers who are coming without wearing one
Raipur and Birgaon municipal corporation limits would unlock on Friday as 16 days of lockdown, enforced by the District Administration to break the chain of coronavirus, ended on Thursday. However, markets would be allowed to run business six days a week and in different shifts. Except dairy business (6 am to 12 noon), no other business would be allowed on Sunday.
It is mandatory for all the business houses/shops to keep face masks in their respective shops and give them to the customers coming to the shop for purchasing of goods. All the HoD offices of State Government would also open on Friday. The District Administration has allowed the traders and small vendors to resume their business in five different shifts following a marathon meeting on Thursday. District Collector Dr S Bharathi Dasan and Senior Superintendent of Police (SSP) Ajay Yadav held meeting with the traders at Collectorate on Thursday. According to the decision taken in the meeting with mutual understanding, grocery and provision shops would remain open from 8 am to 4 pm, and fruit, vegetable and milk parlours would provide service from 6 am to 12 noon. Similarly, hotels and restaurants would remain open from 10 am to 9 pm and people can visit to have food.
Home delivery timing for hotels and restaurants would be upto 10 pm. Other shops such as cloth stores, shoe shops, readymade garment shops, hardware, utensil etc can run their business from 11 am to close at 7 pm. Liquor shops would also open from Friday. Street food vendors running their business on handcarts can also resume their business and the timing for them has been allotted as 6 am to 9 am in the morning followed by 5 pm to 8 pm in the evening.
It is to be mentioned, lockdown was enforced in Raipur and Birgaon municipal corporation limits on July 22 when these urban areas witnessed record spike in the number of covid-19 cases. As the lockdown ended on August 6, district administration held a meeting with the traders to chalk out strategies for the reopening of business while complying with Covid norms. The District Collector said that a review meeting would be held after 15 days and further course of action would be decided keeping mind the situation.