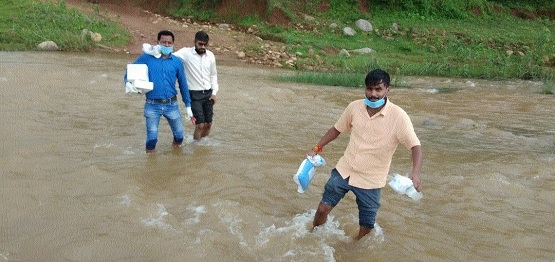 Corona warriors crossing Macchali river for collecting samples at Supalga village under Mainpat block of Surguja district.

Staff Reporter ;
RAIPUR,
Corona warriors are leaving no stone unturned to fight the menace of COVID-19 pandemic in Surguja district. Even health workers in Surguja district are braving to cross the swollen river to collect samples for testing of coronavirus infections through Reverse Transcription Polymerase Chain Reaction (RT-PCR). Health and Family Welfare Minister T S Singhdeo has praised the works of the health workers, who are collecting samples by crossing rivers for RT-PCR testing.
Singhdeo tweeted, "Our brave Corona warriors are collecting samples for RT-PCR, from remote Supalga village block under Mainpat of Surguja district. Even rivers couldn't stop them. We are proud of them. I salute the indomitable spirit of our Corona warriors who are leaving no stone unturned to fight the menace of Covid. You are an inspiration." Virology Laboratory has started functioning at Government Medical College Ambikapur since August 3. Speaking to The Hitavada, Medical Superintendent of Government Medical College Ambikapur Dr Ramnesh Murthy said that around 200 samples have been tested through the RT-PCR method, in which 2 patients were found corona positive.
The Medical Superintendent said that it is a very challengeable and difficult task to run the Virology Laboratory in remote area Ambikapur as it takes a lot of time for kits to arrive and other necessary medical kits to arrive here as a result testing could also get delayed. It may be mentioned that 268 corona positive cases have been found till August 5 in Surguja district, in which 202 patients have been discharged after treatment. At present, there are 64 active corona positive cases in Surguja and 2 corona patients have died so far.