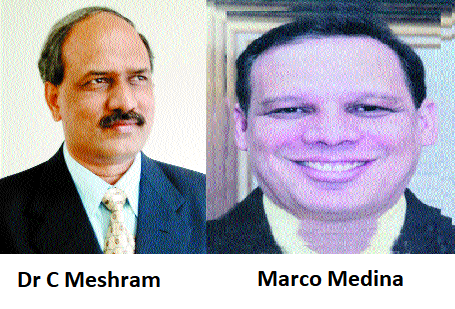 The biggest danger from the Zika Virus is to the pregnant women and their foetuses. Zika infections in pregnant women can lead to congenital defects in their newborns such as microcephaly, in which the brain of the infant is small and underdeveloped, said President of Pan American Federation of Neurological Societies and member of WFN task force for research on Zika, Prof Marco Tulio Medina from Honduras, Latin America.
Marco Medina was giving a talk on 'Zika and other arbovirus infections' during the third session of WFN FINE neuroinfection series organised by Tropical and Geographical Neurology Specialty group of WFN and Forum for Indian Neurology Education. The session was chaired by Prof Christopher Kennard from UK and Dr John England from USA.
Long term disabilities with convulsions associated with severe psychomotor retardation are the expected consequences of congenital Zika syndrome. These children need lifelong neurological care. In addition to microcephaly, brain malformation and eye abnormalities are also seen. Some children are born dead. Marco Medina said that Brazil was worst hit during the recent epidemic with report of 17 lakh cases. About 3,500 children born to Zika positive mothers were observed to have microcephaly in Brazil within a span of 4 months from October 2015 to January 2016.
Zika is a viral disease transmitted by bite of a day time active Aedes Aegypti mosquito, and can also be sexually transmitted by men to their sexual partners. The virus was first isolated in 1947 from a rhesus monkey in the Zika forest of Uganda. In 2013 the virus spread eastward across the Pacific Ocean to French Polynesia, then to Easter Island and in 2015 to Mexico, Central America, Caribbean, and South America, where Zika outbreak has reached pandemic levels. Therefore, World Health Organisation on February 1, 2016 has declared Zika virus as Public Health Emergency of International Concern, PHEIC.
India reported the initial cases of Zika in 2017. Subsequently, 157 laboratory-confirmed cases of Zika, including 63 pregnant women reported from Rajasthan in 2018, said Dr Chandrashekhar Meshram, Course Director and President of Tropical Neurology Group of World Federation of Neurology. Those infected with the virus may have mild fever, skin rashes, conjunctivitis, muscle and joint pain or headache. The illness is usually mild and the symptoms normally last for 2-7 days. 80% people infected with virus do not have any complaints. However, the neurological consequences are devastating. Zika infections have also been linked to increased incidences of Guillain-Barré syndrome, a nervous system disorder causing weakness in limbs. It also causes encephalitis, meningitis, myelitis, Optic Neuritis causing decreased vision and stroke. Some patients also have difficulty in breathing and swallowing. The treatment of the condition is use of IV Immunoglobulin or plasma exchange. This treatment is very costly and therefore national governments, WHO, the UN, and other aid agencies should coordinate to support patients in resource limited poor and developing countries.
Dengue, Chikungunya and Japanese Encephalitis have created havoc in the country in recent years. Zika virus is also from same Flavivirus group and transmitted by same mosquito. So there is a danger of Zika virus epidemic in the country. For the first time Zika virus was isolated from mosquitos in Jaipur in 2018. Currently, there is no effective treatment or vaccine against this virus. Hence, prevention is key with control of mosquito population and prevention of mosquito bites says Dr Meshram.