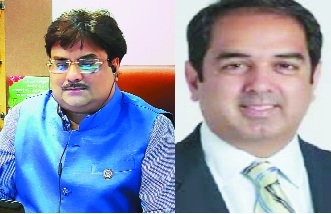 Julfesh Shah S N Rishi
Business Bureau :
The Union Government has launched the Credit Guarantee Scheme for Subordinate Debt for MSMEs, thereby operationalising the Rs 20,000 crore distressed assets fund and recently Ministry for MSMEs issued guidelines for the scheme which was announced under Aatmanirbhar Bharat economic package. It will definitely provide some solace and liquidity to the stressed MSMEs said MSME expert CA Julfesh Shah while adressing the webinar organised by MSME Entrepreneurs Forum of Western India Zone. He said that the scheme will be operationalized through a special window created for this purpose under Credit Guarantee Fund Trust for Micro and Small Enterprises (CGTMSE) and the Scheme will be called as 'Distressed Assets Fund - Subordinate Debt for Stressed MSMEs'.
Shah further said that the objective of the scheme is to provide personal loan through banks to the promoters of stressed MSMEs for infusion as equity/quasi equity in the business eligible for restructuring, as per RBI guidelines for restructuring of stressed MSME advances. For the purpose of this scheme credit facility means financial assistance provided under the scheme by way of sub-debt facility extended by the lending institution to the promoters of the MSME units upto 15% of promoter's stake or Rs 75 lakh whichever is lower. However this personal loan shall not exceed the original debt of the beneficiary. Further, the equity will be calculated on the basis of the last available audited balance sheet of a financial year. He elaborated that under this scheme eligible borrower will mean the promoters of MSME units which are stressed, viz. SMA-2, and NPA accounts as on April 30, 2020 and can become commercially viable as per the assessment of the lending institutions.
The scheme is applicable for those MSMEs whose accounts have been standard as on March 31, 2018 and have been in regular operations, either as standard accounts, or as NPA accounts during financial year 2018-19 and financial year 2019-20. "However, fraud accounts and willful defaulters will not be considered under the proposed scheme,"Shah clarified. The presentation was followed by question-answers session which was effectively resolved by the speaker. Convenor of the forum S N Rishi made welcome remarks & Deputy Convenor V K Singh coordinated the session.