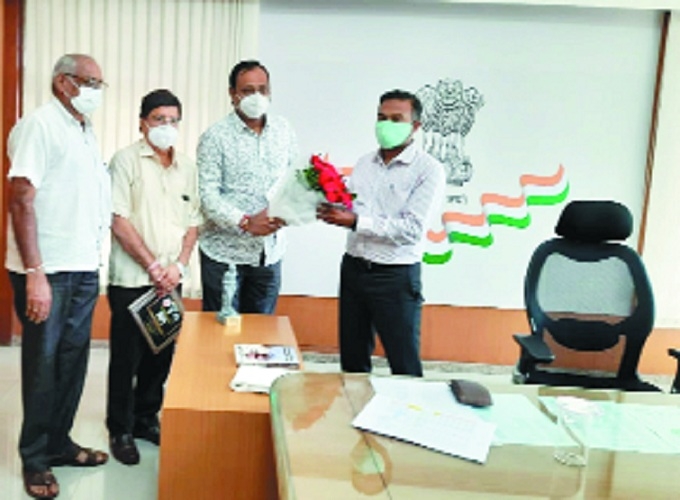 Ashwin Mehadia welcoming Radhakrishnan B, NMC Commissioner with floral bouquet. Also seen are Hemant Gandhi and Ram Avtar Totla.
Business Bureau :
A DELEGATION of Nag Vidarbha Chamber of Commerce (NVCC) met Radhakrishnan B, newly-appointed Commissioner of NMC. The delegation led by Ashwin Mehadia, President of NVCC requested the Commissioner to scrap the odd even rule. Mehadia welcomed Radhakrishnan B with a floral bouquet and also presented him souvenir released to celebrate the 75th year of NVCC. He said, "During the unlock 1 phase, shops and business establishments in city were given permission to work on odd even pattern which is very painful and troublesome for the traders.
By allowing shops to remain open on all days will decrease the crowd in the market." He also said that traders are working for only 15 days. Customers have to visit the market twice for purchase. Mehadia also pointed out that the side which is closed on a particular day is taken over by hawkers and vendors, and are causing traffic problems. A memorandum was also handed to the Commissioner by NVCC delegation. It also demanded to increase the market timing from 9 am to 8 pm. Hemant Gandhi, IPP threw light on the issue of LBT and trade licence, requesting the Commissioner to intervene into the matter and resolve it. Ram Avtar Totla, Secretary brought to the notice of the Commissioner the amount charged by private hospital from COVID-19 patients.
"Local administration should keep a watch on the private hospital and the amount they are charging. Even the patients having insurance should be helped to get the insurance claim settled immediately from their respective insurance companies," Totla said. After giving patient hearing to the suggestions made by the delegation, Radhakrishnan B assured that decisions will be taken in benefit of all. Also present were Sanjay Agrawal, Vice-President, Sachin Punyani, Treasurer, Shabbar Shakir, Joint Secretary and others.