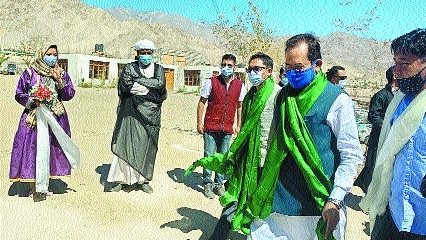 Union Minister of Minority Affairs Mukhtar Abbas Naqvi visits Ladakh on Thursday. (ANI)
LEH ;
UNION Minister of Minority Affairs Mukhtar Abbas Naqvi on Thursday said the abrogation of Article 370 has demolished the "speed breaker" of redundant laws which had obstructed the development process in Jammu-Kashmir and Ladakh. On the first day of his two-day visit to Ladakh, Naqvi addressed various public meetings and met representatives of various social organisations in Leh, Saboo-Thang, Chushot Shama, Chushot Gongma, and Phyang.
He also reviewed different development projects in the Union Territory. He said now Jammu and Kashmir and Ladakh are also getting benefits of various socio-economic and educational empowerment schemes of the Central Government. Naqvi said scrapping of Article 370 in 2019 has removed the political and legal obstacles in development of Jammu-Kashmir and Ladakh and both the UTs are witnessing significant development along with other states of the country.
"After abolition of the Article 370, more than 75,000 youths of Jammu-Kashmir, Leh and Kargil areas have been provided employment oriented skill development training, 50 new colleges are being set up, 25,000 seats have been added in existing colleges, lakhs of students have been provided various scholarships, one new medical college, one engineering college and National Skill Training Institute is being established in Ladakh," he said.