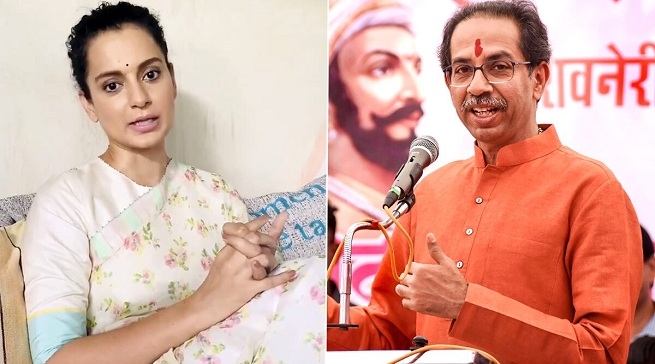 MUMBAI :
A DAY after Mumbai's civic authorities demolished portions of her office, actor Kangana Ranaut on Thursday again took on the Maharashtra Government by castigating Chief Minister Uddhav Thackeray for "misusing power" and declaring that her voice won't be suppressed. Ranaut, who found support from a section of the film fraternity and also some opprobrium, posted a series of tweets comparing the Shiv Sena-led Brihanmumbai Municipal Corporation (BMC) to goons, terming the State Government a "milavat sarkar" and recalling Marathi culture and pride.
The "Queen" star took a jibe at the NCP-Shiv Sena-Congress State Government and said, the ideology of the Shiv Sena had been compromised. "The ideology on which Shri Bala Saheb Thackeray built Shiv Sena, today they have sold the ideology for power, becoming Sonia Sena from Shiv Sena. The goons who broke my house behind my back, do not call them a civic body. Don't insult the Constitution." "Your father's good deeds can give you wealth, but you have to earn respect, you will shut my mouth, but my voice will echo in a hundred millions after me, how many mouths will you shut?
"How many voices will you suppress? Till when you will run away from the truth, you are nothing but an example of dynasty," the 33-year-old actor wrote on Twitter. Security provided outside Kangana's house, office: MUMBAI police have made security arrangements outside Bollywood actor Kangana Ranaut's residence in suburban Khar and her bungalow-cum-office in Bandra, an official said on Thursday. The "Queen" actor has already been given Y-plus category security cover by the Centre in the wake of a row over her remarks in which she likened Mumbai to PoK.
Now, Manish Malhotra on BMC radar over construction: AFTER Kangana Ranaut, the Brihanmumbai Municipal Corporation (BMC) has issued a notice to Manish Malhotra for 'unauthorised construction' at the leading fashion designer's house here, an official said. Malhotra has been asked to revert in seven days and give sufficient cause as to why the work should not be pulled down, a civic official said here on Thursday.