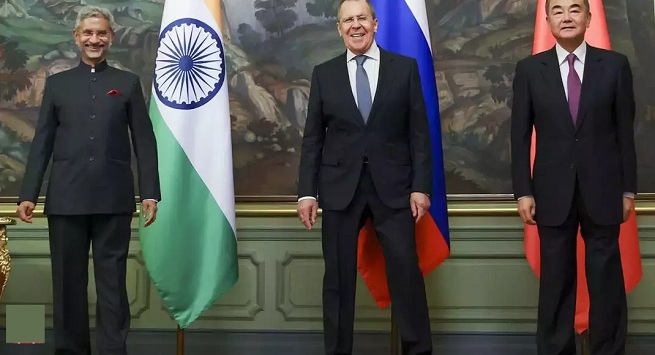 External Affairs Minister S Jaishankar (L), Russian Foreign Minister Sergey Lavrov (C), and Chinene Foreign Minister Wang Yi, pose for a photo during a meeting of Foreign Ministers of Shanghai Cooperation Organisation in Moscow, on Thursday. (AP/PTI)
MOSCOW/NEW DELHI :
EXTERNAL Affairs Minister S Jaishankar and his Chinese counterpart Wang Yi met in Moscow on Thursday amid hopes of a possible breakthrough in reducing tensions along the Line of Actual Control (LAC) in eastern Ladakh. The talks between the two Foreign Ministers are taking place against the backdrop of a massive spike in border tensions in eastern Ladakh triggered by fresh face-offs between Indian and Chinese troops along the LAC in eastern Ladakh.
Following fresh confrontation around the southern bank of Pangong lake, India has further strengthened its military presence in the region by sending additional troops, battle tanks and other weaponry. "The External Affairs Minister met the Chinese Foreign Minister in Moscow," Ministry of External Affairs (MEA) Spokesperson Anurag Srivastava said at a virtual media briefing when asked whether the four-month-long border faceoff will be raised by Jaishankar at the talks. Jaishankar and Wang are in Moscow to attend a Shanghai Cooperation Organisation (SCO) meeting.
Srivastava reiterated India's position that it is committed to resolve the current situation through peaceful negotiations. "Both India and China are in regular touch through diplomatic and military channels to resolve the situation. This was the consensus when the two Defence Ministers met," he said. Jaishankar also attended the meeting of the Foreign Ministers of the eight-member Shanghai Cooperation Organisation here in the Russian capital.
"At the formal opening of the meeting in Moscow of the Foreign Ministers of the Shanghai Cooperation Organisation," Jaishankar tweeted along with a group photo of the Foreign Ministers of the SCO member States including China and Pakistan. It was the third SCO Foreign Ministers meeting that India attended as a full member of the eight-nation bloc. Jaishankar and his Russian counterpart Sergey Lavrov have discussed bilateral economic issues, cooperation in nuclear and space sectors during their first in person meeting here since the COVID-19 outbreak.