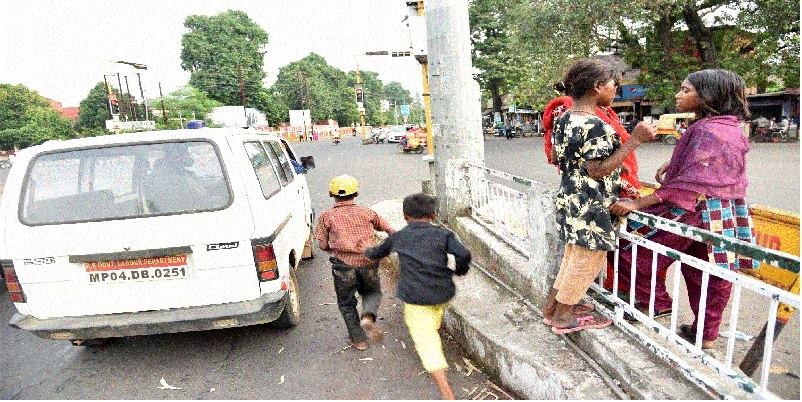 Despite tall claim made by Social Welfare Department having initiated optimal efforts to contain begging menace of tender age children seems to have proved superficial. As in majority of chourahas of the city at traffic signal lights, tender age children risk at their lives begging for some bucks. Reportedly, these tender age children often turn hostile after being refused by people to give some offering in their lap. The flourishing begging menace in Jabalpur has become and issue of serious concern however, various social organisation remain indifferent for tender age children.
According to information, the excessive wandering of tender age children indulge in begging at important squares of the city has invited serious trouble for people. Allegedly, Jabalpur city clinches toward a begging mafia as people behind the children pushed to beg at various locations mint money by compelling them for hard toil risking at their respective lives. Amidst prevailing global pandemic of COVID-19 the tender age children having discarded the preventive steps of COVID-19 protocol remain beyond the reach of Welfare Department.
It is informed that these children have been pushed in begging at traffic signals following the foot steps of metropolitan cities. Under enormous pressure from the racket leading the begging mafia, children in an abrupt move start cleaning the windscreen of vehicles and pray to people to give them some buck to satisfy their appetite.