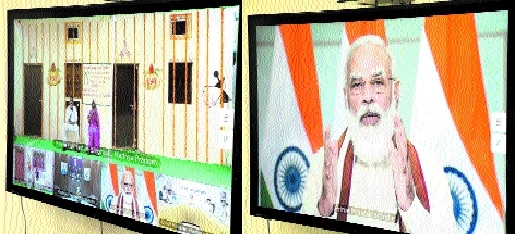 In virtual programme 'Grah Pravesham', Prime Minister Narendra Modi gave possession of 1.75 lakh houses to beneficiaries of Pradhan Mantri Awas Yojana on Saturday. Prime Minister Modi said that Pradhan Mantri Awas Yojana has been given a vibrant form by avoiding unnecessary Government interference. The joy of festivals will be more for beneficiaries of this scheme this year.
"I myself would have come in person to join such a great moment of jubilation in your life, but corona compelled me to stay indoors," he said. Modi further said that the key to success of this scheme is transparency. Houses were built earlier also, schemes are being implemented since decades. Houses are being built since independence, but the goal of giving houses to crores of people was never met. Beneficiaries are now a part of house construction. Along with houses, cattle sheds are also being built in rural areas.
Roads are also being constructed in rural areas and other works too are being carried out rapidly. Labourers returned from urban areas to villages have also got jobs. He said earlier people were not ready to shift to houses built in housing scheme. Old experiences were taken into account and scheme was implemented with new thinking.
PM praises MP for construction of houses in record time
Prime Minister Narendra Modi said that usually it takes 125 days to construct a house under Pradhan Mantri Awas Yojana (PMAY). Many houses were constructed in Madhya Pradesh in just 45 to 60 days. The pace at which the work has been done in Madhya Pradesh is commendable and a record in itself. Construction of 1.75 lakh houses in Madhya Pradesh is a big achievement. If this momentum persists, there will be no hurdle in achieving the goal of giving home to every family in the country by year 2022. Madhya Pradesh will have significant contribution in this. PM Modi was addressing digital house warming programme held to give possession of houses to PMAY beneficiaries in Madhya Pradesh on Saturday. Meanwhile, it was through video-conference from Morena that CM Shivraj Singh Chouhan attended the programme. Apart from this, Madhya Pradesh Governor Anandiben Patel, Union Minister for Panchayat and Rural Development Narendra Singh Tomar, Minister for Panchayat and Rural Development of Madhya Pradesh Mahendra Singh Sisodiya, Union Minister of State for Rural Development Sadhvi Niranjan Jyoti, Rajya Sabha Member Jyotiraditya Scindia also attended the virtual programme from different places. The Chief Minister said that 'Grah Pravesham' programme was celebrated in 26,548 villages of 16,440 Gram Panchayats.
Moment to rejoice as Modi interacts with beneficiaries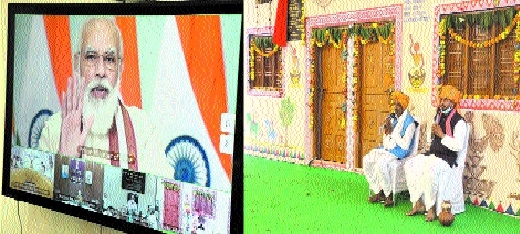 Prime Minister Narendra Modi interacted with Gulab Singh Adivasi of Dhar district, Pyarelal Yadav of Singrauli district and Narendra Namdev of Gwalior during digital house warming programme held to give possession of houses to Madhya Pradesh beneficiaries of PMAY on Saturday.
Modi started conversation in local dialect with Gulab Singh Adivasi of Dhar district. He praised Gulab Singh for constructing a good house. When PM inquired about his health, he said that he is not keeping well therefore his son Meru will talk on his behalf.
Meru said that he has constructed a house with "Halma" tradition, prevalent in the region. Under this, people of village work together to build houses and person whose house is being built, he feeds everyone. Praising this tradition, PM Modi said that this is an amazing example of Government initiative and social cooperation.
Prime Minister Narendra Modi also interacted with Pyarelal Yadav of Gaderia, Gram Panchayat- Vaidhan of Singrauli district. The Prime Minister asked if he experienced any difficulty in constructing the house. He also inquired whether anyone ask for money and how many times did he visit the bank. Yadav said that installments were deposited in his account on time and he also received technical guidance for construction of house.