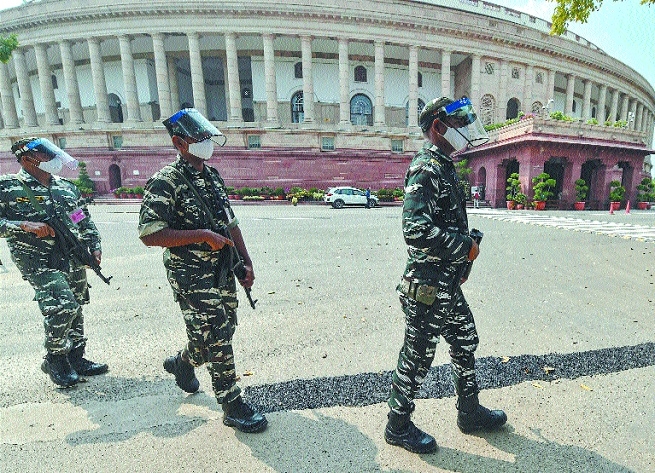 Security Personnel wearing face shields and masks patrol the premises of Parliament House in New Delhi on Sunday. (PTI)
NEW DELHI ;
PARLIAMENT is fully prepared for the 18-day Monsoon Session from Monday under the shadow of the coronavirus pandemic with many firsts, including sitting of the two Houses in shifts without any off day, entry only to those having a negative COVID-19 report and compulsory wearing of masks. In run-up to the session, while over 4,000 people including MPs and staff have been tested for COVID-19, most parliamentary operations have been digitalised, entire premises sanitised and doors made touch-free.
The first-of-its-kind Monsoon Session will see Lok Sabha and Rajya Sabha sitting in two different shifts, while special seating arrangements have been made for MPs in adherence to social distancing guidelines. Barring on the first day, Rajya Sabha will convene in morning shift from 9 am till 1 pm, and Lok Sabha in evening shift from 3 pm to 7 pm. The chambers of both Houses along with their respective galleries will be used for sitting of the members in each shift. In between the two shifts, the entire complex will be sanitised. Entry in the premises will be allowed only on production of a COVID-19 negative report, with the test conducted not more than 72 hours before the start of the session.
The DRDO will also provide multi-utility COVID-19 kits to all MPs. Each kit will contain 40 disposable masks, five N-95 masks, 20 bottles of sanitisers of 50 ml each, face shields, 40 pairs of gloves, a touch-free hook to open and close doors without touching them, herbal sanitation wipes and tea bags to enhance immunity. It has also been decided that air of air conditioners will be exchanged six times every day to avoid any possible infection. The two Houses together have more than 780 members at present.
The Health Ministry has also suggested that the movement of Members of Parliament in chambers of both the Houses can be made unidirectional to avoid face-to-face interactions. LS's BAC meeting begins: The proceeding of the Business Advisory Committee (BAC) of Lok Sabha began on Sunday to arrive at a consensus about what Bills and Ordinances will be discussed in the upcoming Monsoon Sessions of Parliament. All parties assured maximum cooperation in Monsoon Session: LS Speaker: Lok Sabha Speaker Om Birla on Sunday said that all the parties participating in the Business Advisory Committee (BAC) meeting earlier in the day have assured of maximum cooperation in the Monsoon Session of Parliament commencing from Monday. Birla spoke to the media after he attended the BAC meeting in Parliament House Annexe at 11 a.m. In this context, he said "it was emphasised in the meeting that, in such exceptional circumstances, there should be a more meaningful and positive discussion on legislative subjects during the Session, while taking care of health-related protocols".