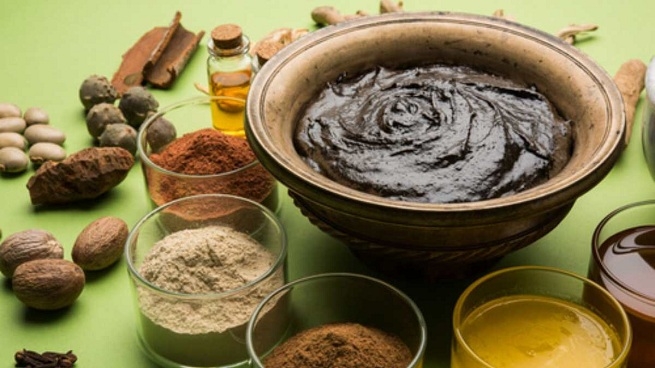 NEW DELHI :
THE Ministry of Health and Family Welfare stressed on ayurvedic intervention to manage post-COVID conditions in its latest guidelines issued on Sunday for recovered patients, including use of chyawanprash and AYUSH medicines. In the guidelines, the Ministry recommended the use of immunity-boosting medicines like Ayush Kwath and Samshamani Vati on a daily basis, for effective recovery from post-COVID health conditions. "In the clinical practice, chyawanprash is believed to be effective in post-recovery period," a Ministry advisory said while listing yoga, pranayama and daily walks among the other suggestions. At the individual level, the Ministry advised people to strictly follow protocols like wearing face masks, washing hands, maintaining social distance, and other respiratory hygiene. It also suggested involvement in regular household chores, if health permitted.
"Professional work should be resumed in a graded manner," the Ministry advisory added. Stressing the need to self-monitor one's health at home, the Ministry advised recuperating persons to check body temperatures and blood pressure on a regular basis. It also asked them to take oxygen readings on pulse oximeters on the advice of doctors. "Look for early warning signs like high-grade fever, breathlessness, unexplained chest pain, onset of confusion, and focal weakness," it said. Ministry advised for spread of awareness by recuperating persons about coronavirus by sharing experiences with friends and relatives and through the social media.
"The sharing of these experiences on the social media will help create public awareness, dispel myths, and stigma," the advisory read. Besides, the Ministry advised for mental health support. "Seek psycho-social support from peers, community health workers, and counsellor. Take support of community-based self-help groups and qualified professionals for the recovery and rehabilitation process." (medical, social, occupational, livelihood)," it said. As India crossed a cumulative of 47 lakh COVID-19 cases and daily recoveries exceeding 70,000, post-COVID care is gaining more importance with hospitals setting up post-COVID care telephonic or physical consultation.
The Union Health Ministry in a press release stated that India continues to report high numbers of recoveries with 78,399 registered recoveries in last 24 hours. The total number of recoveries has touched 3,702,595 taking the recovery rate to 77.88 per cent. With a massive spike of 94,372 cases including 1,112 fresh deaths, India on Sunday crossed the 4.7 million-mark on the COVID-19 tally with a total of 47,54,356 cases. Out of the total 47,54,356 cases, 9,73,175 are active cases, 37,02,595 have been cured and discharged so far while 78,586 lost the battle against the deadly virus. In the last 24 hours, 78,399 patients were discharged while 14,859 fresh cases came up. While the recovery rate was at a whooping high of 77.88 per cent, the fatality rate has come down to 1.66 per cent, the data from the Ministry of Health and Family Welfare said.
New coronavirus seen up close in graphic details inside lungs
NEW YORK,
Sept 13 (IANS)
A TEAM of researchers in the US has published striking images of SARS-CoV-2 infected cells in the respiratory airways that are very graphic in nature. In a laboratory setting, the researchers at University of North Carolina School of Medicine inoculated the new coronavirus into human bronchial epithelial cells, which were then examined 96 hours later using scanning electron microscopy. The New England Journal of Medicine featured this work in its "Images in Medicine" section. Camille Ehre, Assistant Professor of Pediatrics, captured these images to illustrate how intense the SARS-CoV-2 infection of the airways can be in very graphic and easily understood images.
The images show infected ciliated cells with strands of mucus (yellow) attached to cilia tips (blue). Cilia are the hair-like structures on the surface of airway epithelial cells that transport mucus (and trapped viruses) from the lung. A higher power magnification image shows the structure and density of SARS-CoV-2 virions (red) produced by human airway epithelia. Virions are the complete, infectious form of the virus released onto respiratory surfaces by infected host cells.
According to the researchers, this imaging research will help illustrate the incredibly high number of virions produced and released per cell inside the human respiratory system. The large viral burden is a source for spread of infection to multiple organs of an infected individual and likely mediates the high frequency of Covid-19 transmission to others.