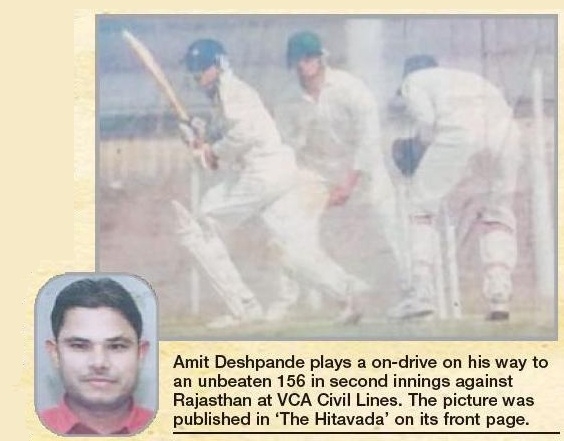 By Anupam Soni :
A SPECIALIST job in cricket considered to be the most thankless one is wicketkeeping. It only adds to the pressure if the stumper doubles up as an opening batsman. It may also be advantageous in one aspect that after a long haul as a keeper, returning to the crease as a batsman, the player loses no time in sighting the ball. Encashing on these precise points, Vidarbha's Amit Deshpande became the only player from the region to still hold the record of hitting hundreds in both innings of a Ranji Trophy match.
Just into his fourth FC match, Deshpande, not even twenty-years-old then, scored 128 and 156 not out against Rajasthan at VCA Civil Lines ground in January 2001. Rajasthan skipper Gagan Khoda preferred to bat first after calling it right at the toss in Round 2 of their Central Zone match. Vidarbha left-arm pacer Chandrashekhar Atram removed Nikhil Doru early. The other opener Vineet Saxena (117) and Anshu Jain (37) stabilised the innings taking the score to 63. But 12 runs apart Atram and right-arm seamer Abhijit Piprode gave Vidarbha a double break. Later, Saxena had three little partnerships with Khoda (32), P Krishnakumar (36) and Sanjeev Sharma (33). But the union that hurt the hosts most was between Saxena and wicketkeeper Rohit Jhalani (68) who came at number nine.
The duo frustrated Vidarbha bowlers adding 101 runs for the eighth wicket. Vidarbha skipper and offie Pritam Gandhe broke the partnership having the centurion caught by Shailesh Harbade. He went on to pick the last two to return with a four-wicket haul. The visitors made 380 all out in 119.4 overs. "It was a batting track and after initial help for the bowlers it became much more easy for the later batsmen. Saxena and Jhalani, who was their wicketkeeper, had a very good partnership and made most of the good conditions taking the team to a good score," Deshpande remembered the match. Vidarbha responded with a sound start. Deshpande (128; 225b, 18x4) and Adwait Manohar (30) took the team to 72 before the latter became first of the three victims of left-arm spinner Anup Dave. Two runs later, Dave got rid of Shailesh Harbade who could not open his account.
Deshpande and Ranjit Paradkar (56; 130b, 7x4) stitched 147-run partnership for third wicket. At the same score of 221 both the set batsmen departed. Vidarbha lost last eight wickets for the addition of 85 runs and the innings folded at 306. "It was a crucial match for me and I wanted to score some runs. Rajasthan's bowling unit was very good. I don't think they ever had such a good bowling attack before that. Sanjeev Sharma, who was a retired India player, was still very fit and was bowling with fire. He had a very good line, pace and movement. I had not faced that difficult bowler in my life till then. Acchi speed thee aur achcha nikalta thaa ball off the wicket. But since it was a batting wicket, I could survive. I went on to score my first hundred.
"We had a good start (with Adwait) and then my partnership with Ranjit was also important. But we lost wickets in a heap to concede first innings lead," said Deshpande. In the second innings, Rajasthan declared at 234-7 in 74 overs. Doru (71; 163b, 10x4), who missed out in the first innings, and Saxena (27) had a fifty partnership. Rahul Kanwat (34) and Jain (38) also got good starts. Gandhe and Piprode snared three each. Vidarbha were set a target of 309 runs from about 60 overs. Deshpande (156*; 173b, 18x4, 3x6) came out all guns blazing playing shots all round the park with utmost ease.
After Manohar had departed early, Deshpande entirely dominated the stand with Harbade (41; 97b, 5x4) that yielded 156 runs. Vidarbha reached 219-2 in 53 overs when captains of both the teams thought it was better to shake hands. "We had no intentions of chasing the target. I got a life when I was in my twenties. The player at forward short leg missed a sharp chance on the bowling of Sharma. The fast bowler caught me in double mind with a bouncer but the fielder grassed it. After that I hammered almost all the bowlers at will. In the second innings, had I been out early, it would have been difficult for us and we could have collapsed. "In that match, I was always in the game. First I kept wickets, then hit a century, then kept again and soon was out there to bat again.
The ball was looking like a football to me. Sometimes, it can be tough batting and keeping continuously though it was always easy to sight the ball straightway," said Deshpande. Gandhe was all praise for the young batsman. "Bahut tagda thaa woh...bahut solid. He was a very talented batsman. In that particular innings, I still remember, he was playing sweep (shots) to medium-pacers in the second innings," said Gandhe on Deshpande's record-making feat.
One-day to four-day in one day THERE is an interesting episode to Amit Deshpande making his Ranji debut. "In those days, the Ranji Trophy four-day match was preceded by a one-day match against the same opposition. I was selected for one-day match only against Railways in 1999. "I hit some 67-68 runs against a side that was among champion teams then. They had the likes of Sanjay Bangar, Parida, Murali Kartik, JP Yadav and other notable players in the squad. My performance earned me a berth in the four-day Ranji match that started the next day," recalled Deshpande, who was just 18 then.
"I could play only two games that season as I had to attend India trials for Under-19 World Cup. With two fifties from four selection matches, I was chosen to be among 25 probables but could not make it to the final squad," Deshpande lamented. Deshpande later went on to become youngest and fastest batsman to score 1000 runs for Vidarbha. He is among the most successful wicketkeepers with 125 dismissals (109 catches and 16 stumpings).
Match:

Vidarbha versus Rajasthan Ranji Trophy Central Zone Round 2 match played at VCA Civil Lines ground in Janaury (18-21) 2001. Result: Draw. Highlights: Opener and wicketkeeper Amit Deshpande became first Vidarbha batsman to hit hundreds in both innings of a Ranji Trophy match. n Deshpande was the youngest Vidarbha batsman to score 1000 runs in FC cricket. He was 21 years and 59 days when he reached that milestone bettering the record of Yogesh Ghare, who was 23 years and 183 days old when he entered into the quadruple digits.
The Hitavada Scoreboard RAJASTHAN 1ST INNINGS: N Doru c Khare b Atram 2, V Saxena c Harbade b Gandhe 117, A Jain c Jadhav b Atram 37, R Kanwat c Deshpande b Piprode 7, G Khoda c&b Khare 32, P Krishnakumar run out (Jadhav) 36, S Bhatia b Atram 1, S Sharma c Sharma b Gandhe 33, R Jhalani lbw b Gandhe 63, A Dave c Harbade b Gandhe 18, L Jain Not Out 1. Extras: (w 3, nb 21, b 2, lb 7) 33. TOTAL: (All out, 119.4 overs) 380. Fall of wickets: 1-6, 2-63, 3-75, 4-136, 5-201, 6-203, 7-250, 8-351, 9-365. Bowling: Piprode 29-10-59-1, Atram 38-4-157-3, Khare 21-2-75-1, Gandhe 27.4-6-58-4, Jadhav 4-0-22-0. VIDARBHA 1ST INNINGS: A Deshpande c Khoda b L Jain 128, A Manohar c Krishnakumar b Dave 30, S Harbade c Bhatia b Dave 0, R Paradkar lbw b Dave 56, D Sharma c Dave b L Jain 2, R Jadhav c Doru b L Jain 19, H Shitoot run out (Krishnakumar) 29, S Khare c Saxena b Krishnakumar 14, P Gandhe c Kanwat b Krishnakumar 2, C Atram b Sharma 13, A Piprode Not Out 5. Extras: (nb 3, b 5) 8. TOTAL: (All out, 108.0 overs) 306. Fall of wickets: 1-72, 2-74, 3-221, 4-221, 5-224, 6-267, 7-275, 8-283, 9-292. Bowling: Sharma 18-4-57-1, Krishnakumar 14-3-48-2, Kanwat 22-4-75-0, Dave 32-5-75-3, L Jain 19-5-36-3, Khoda 2-0-6-0, A Jain 1-0-4-0. RAJASTHAN 2ND INNINGS: N Doru c Khare b Gandhe 71, V Saxena c Sharma b Gandhe 27, R Kanwat c Khare b Gandhe 34, A Jain lbw b Piprode 38, P Krishnakumar c Deshpande b Piprode 8, G Khoda c Khare b Piprode 10, S Bhatia Not Out 26, R Jhalani c Deshpande b Khare 2, A Dave Not Out 1. Extras: (nb 14, lb 3) 17. TOTAL: (7 wkts decl, 74.0 overs) 234. Fall of wickets: 1-53, 2-116, 3-160, 4-176, 5-194, 6-214, 7-226. Bowling: Piprode 22-4-65-3, Atram 10-3-23-0, Gandhe 32-6-85-3, Khare 4-0-17-1, Jadhav 5-0-37-0, Manohar 1-0-4-0. VIDARBHA 2ND INNINGS: A Deshpande Not Out 156, A Manohar b Khoda 6, S Harbade st Jhalani b Dave 41, R Paradkar Not Out 7. Extras: (w 1, nb 6, b 1, lb 1) 9. TOTAL (2 wickets, 53.0 overs) 219. Fall of wickets: 1-33, 2-189. Bowling: Krishnakumar 11-1-35-0, Khoda 4-0-13-1, Kanwat 10-2-20-0, Dave 15-1-79-1, Sharma 5-0-14-0, Bhatia 1-0-9-0, L Jain 7-0-47-0.