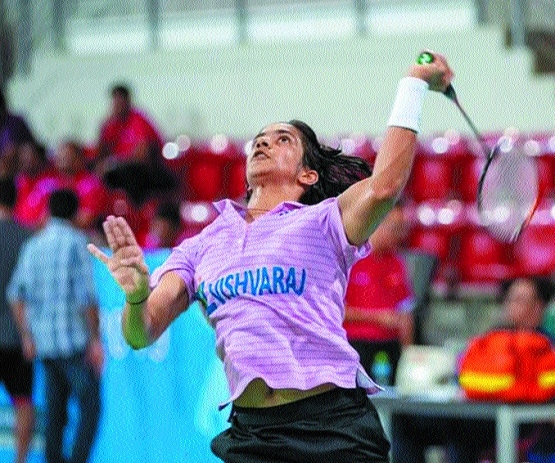 Sports Reporter :
Thomas and Uber Cup Finals postponed to next year after pull-outs
ANYBODY would lose heart on learning that a chance of representing the country has been delayed, more so if the news comes on the birthday. But champions think differently. City shuttler Malvika, who turned 19 on Tuesday, feels Badminton World Federation's (BWF) decision needs to be taken positively. The Thomas and Uber Cup in Denmark was postponed to next year by BWF following a wave of withdrawals by top teams due to the raging COVID-19 pandemic. India had announced both the men's and women's squads for the prestigious event which was scheduled to be held in Aarhus, Denmark from October 3 to 11. However, after Indonesia and South Korea on Friday joined Thailand, Australia, Chinese Taipei and Algeria in pulling out due to the dreaded disease, the sport's governing body held a virtual emergency council meeting on Sunday and came out with a decision on Tuesday.
"The Badminton World Federation (BWF), in full consultation and agreement with local host Badminton Denmark, has made the tough decision to postpone the TOTAL BWF Thomas & Uber Cup Finals 2020 in Aarhus, Denmark," BWF said in a statement. Malvika thanked Badminton Association of India (BAI) for her selection and stressed on being focused. "Thomas and Uber Cup is a very prestigious tournament. According to BWF the tournament may be postponed to further dates.
This is my first year in the senior women's singles category and since November I am ranked India No 2 in singles. I am glad and thankful to BAI for selecting me in the Uber Up team alongside Saina and Sindhu. "I have been training well along with my coach Sanjay Mishra sir. The postponement of the tournament due to unprecedented circumstances needs to be taken positively. It will allow me to focus on my preparations for improving in all the aspects to perform to my best ability once the season begins. I equally enjoy the process of preparation and training leading up to the tournament.
I am driven by determination and positivity to better myself for future for all the opportunities that come my way," said a determined Malvika. Dr Trupti Bansod, Malvika's mother, said being positive is very important. "In this time of pandemic we need to look at things positively so that all the other athletes who look up to her (Malvika) still feel motivated and are positive and hopeful," she said. The BAI had selected the Indian team on September 10 but cancelled the proposed preparatory camp slated to be held at the SAI-Gopichand Academy in Hyderabad from September 7.
The Thomas and Uber Cup Final was supposed to mark the resumption of international badminton after it came to a halt in March because of the dreaded virus. BWF said it had planned to put in place a bio-bubble for the safe return of the sport but it respects the concerns of players and member nations. "...In view of the recent COVID-19 related developments around the world, a number of teams and individual players have elected not to travel to Denmark for tournaments in Aarhus and Odense; a choice the BWF has to respect and acknowledge." (with inputs from PTI)