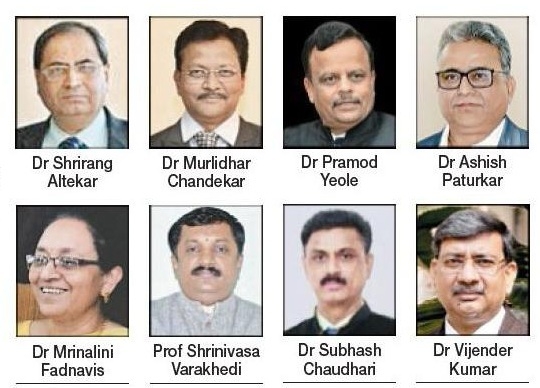 Principal Correspondent :
When one looks critically at the society one realises that the values are missing. One carries the impression that the process of creation of good human being has come to a standstill. Nobody teaches to think out of the box or develop a thought of becoming job-giver than the job-seeker. 'The Hitavada' through its column 'Loud Thinking' has been writing on this issue since long. This newspaper approached stalwarts in education to know their views on 'What is core of education?'. The stalwarts came with fantastic answers. Dr Shrirang Altekar, Professor and Director, Symbiosis Institute of Business Management, Nagpur spoke on Post Graduate education.
According to him, right now focus of education is on employability. "We see even in New Education Policy (NEP) the entire focus is on making our own youth, our own students employable. Employablity has two dimensions--a good employee and a good employer too. Development of youngsters as an entrepreneur should also be given the importance. There are two cores-- one is knowledge-based, knowledge building, knowledge creation and second is employability," asserted Dr Shrirang Altekar. Expressing regret over the journey of education from Gurukul system to Kulguru that has taken students away from learning attitude to becoming job-seeker, Dr Murlidhar Chandekar, Vice-Chancellor of Sant Gadge Baba Amravati University said, "I don't have problem regarding placement issue but we should not forget imbibing sanskars.
The importance of Guru has no place in the present era. We teach the history of Shivaji Maharaj, Dr Ambedkar etc but do we teach students to learn from the lives of great people? The answer is a big no. The journey witnessed transformation of spiritual thoughts to materialistic ones. Fortunately in NEP that was declared recently by Central Government has tried to take care of these aspects very well." Dr Pramod Yeole, Vice-Chancellor of Dr Babasaheb Ambedkar Marathwada University, Aurangabad is strongly in favour of student-centric aspect. "The core of education is welfare and development of students. The programmes designed by Government should be for the overall development of students. Dr Subhash Chaudhari, Vice-Chancellor of Rashtrasant Tukadoji Maharaj Nagpur University, feels, education is the cultivation of mind.
"Students are expected to make themselves strong. They should not be mental loafer. In the sense they should be creative, innovative and keep using their brains continuously. Proper development of human mind is the core of education," emphasised Dr Chaudhari. According to Dr Mrinalini Fadnavis, Vice-Chancellor of Punyashlok Ahilyadevi Holkar University, Solapur, the core of education is human building process. "These humans should have knowledge, they should become trained manpower and they should be taught ethics. The process of capacity building should be on continuously.
Understanding of research needs that would be useful for society is also an important aspect," pointed out Dr Fadnavis. Dr Shrinivasa Varakhedi, Vice-Chancellor of Kavikulguru Kalidas Sanskrit University stated, "Creating responsible citizen is very important. This citizen should know the humanity, he should be pure nationalistic and patriotic. At the same time he or she should possessess knowledge skills." "To develop good human being, capable of national thinking and action, having compassionate and empathetic approach, scientific temper should be our aim. Education should see to it that it should fulfill the requirement of society of creating empolyable and entrepreneurial youngsters," elaborated Dr Ashish Paturkar, Vice Chancellor of Maharashtra Animal and Fishery Sciences University (MAFSU). Dr Vijender Kumar, Vice-Chancellor of Maharashtra National Law University, Nagpur put a very valid point. He said, "The core of education is to make students understand the society, to contribute to the society and behave as per the law of the country."