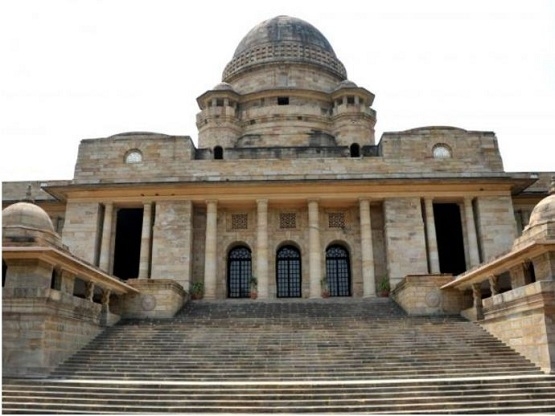 Staff Reporter :
Warns of bailable warrants against 20 hospitals refusing to list para-medical personnel
LAMBASTING the State Government for "not rising to the occasion to reduce the death rate," in Nagpur and inordinate delay in sanctioning jumbo COVID centre, Nagpur bench of Bombay High Court on Tuesday rapped the top brass and sought quick positive steps to ameliorate the ever-deteriorating situation. "The situation in Nagpur is dreadful. The death rate is increasing day by day. Mortuaries are full. There is a queue in crematories.
The patients are not getting ventilators and oxygenated beds. The situation is becoming ferocious," the High Court noted while expressing surprise at the slow decision-making process adopted by the State Government. A division bench consisting of Justice Ravi Deshpande and Justice Pushpa Ganediwala while hearing a suo-motu PIL about hospital bed mismanagement and inept handling of corona pandemic, warned the State Government to HC blasts State for indecision on setting up jumbo COVID centre take a fast decision on starting jumbo COVID facility at Mankapur as announced by Guardian Minister. The proposal was sent on August 19 and still awaits financial nod from the State. Out of these 1000 beds at Mankapur Stadium, 400 beds shall be for ventilators and 300 beds shall be oxygenated. The High Court asked the State Government to accord sanction within one week.
"If we find that no action is taken on the proposal, we direct the Chief Secretary of the State to personally remain present before us so as to make the statement and explain the difficulties in discharging the duties," the High Court directed while directly putting the onus on topmost officer. The High Court reminded the State that it had a fundamental duty to provide proper healthcare to citizens and should not cite excuses of paucity of manpower or infrastructural constraints and strive to reduce the death rate. During the hearing, the High Court came down heavily on private doctors who are refusing to serve the COVID patients. The NMC complained that Indian Medical Association (IMA) merely forwarded a directory of its members and not the list of willing doctors to the civic body. Amicus Curiae Shreerang Bhandarkar pointed out that 95 doctors have volunteered but the Municipal Commissioner Radhakrishnan B clarified that all of them have opted for tele-counselling.
Taking a serious note of this fact, the High Court asked the Municipal Commissioner and IMA to work out modalities and deploy the private doctors to dedicated COVID health centres. Doctors already working at DCHC are obviously exempted from this exercise, Municipal Commissioner clarified. Those above 65 years and with co-morbidities can be used for consultation using technological means. Every doctor whether he is in Government or Semi-Government Hospitals or private professional is under obligation to extend his services with due expertise for protecting the life, the High Court noted while impressing upon authorities to take maximum help from private doctors. NMC top boss also shared some good news about augmenting capacity of Indira Gandhi Rugnalaya and Pachpaoli Maternity Home where medical and para-medic staff has been deployed.
NMC also offered to offer additional salary to willing medical officers during this hour of crisis. About the shortage of para-medical staff, the district administration informed that none of the 20 hospitals has responded to their request to list para-medical staff. The High Court directed all such hospitals and nursing colleges to provide a list of para-medical staff within two days, failing which bailable warrant would be issued to secure their presence. "The Collector shall bring this order to the notice of the concerned hospitals and nursing colleges, so that they can be hauled up for contempt, if there is non-compliance of the order," the High Court warned.
Amicus Curiae Shreerang Bhandarkar in his detailed note traced the reasons for underutilisation of beds, flaws in the system, need to decentralise the control rooms, establishment of war room to effectively control COVID-19 pandemic. In an intervention application, a suggestion was made to use Railway rakes fitted with ICU facilities to tide over shortage of beds. The High Court asked the Municipal Commissioner who is empowered authority under the Act to see as to whether the services and facilities at Railway hospitals can be requisitioned for treatment of patients who require ventilated and oxygenated beds and also services of medical and para medical staff. Adv Shreerang Bhandarkar (Amicus Curiae), Adv Sudhir Puranik (NMC), ASGI Ulhas Aurangabadkar (Union), Addl GP Deepak Thakre (State), Adv M Anilkumar, Adv Samarth (intevener) appeared in the matter.
HC seeks view on lockdown During the hearing, a suggestion was made to order a complete lockdown of at least seven days to break the chain. Senior Counsel Mukesh Samarth suggested to go for total lockdown with prior notice and use the intervening time to create additional medical facilities. Dean of GMC Dr Sudhir Gupta and IGGMC Dean Dr Ajay Keolia opposed imposition of lockdown citing experience of previous lockdown period which failed to curb the community spread. Municipal Commissioner also cited his opposition to any further lockdown.