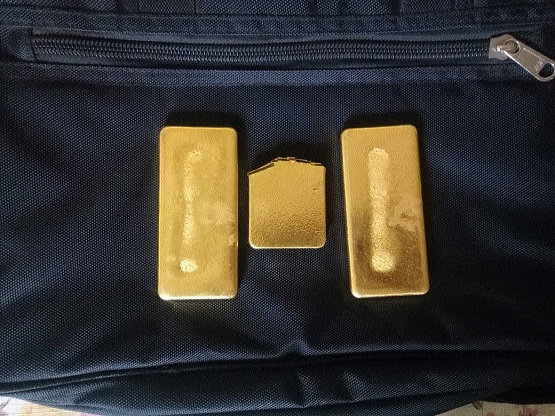 Staff Reporter ;
RAIPUR,
Acting on a precise tip-off, a joint team of cyber cell and Telibandha police on Tuesday intercepted a four-wheeler and recovered around 2.5 kilogram of gold. "A police team on this afternoon intercepted a four-wheeler (CG 04 ML 3978) and seized 2.5 kg gold from the possession of a suspect identified as Ashok Bera (49), a resident of Professor Colony under D D Nagar police station limits. The estimated market value of the seized gold would be around Rs 1.25 crore," said Telibandha Station House Officer (SHO) Ramakant Sahu, who is also the incharge of cyber cell.
The four-wheeler has also been seized, added SHO Sahu. Inspector Sahu further informed that the action was carried out on tip-off that a person in a four-wheeler is speeding towards Raipur from Mahasamund along with major quantity of gold following which a trap was laid on the directives of Senior Superintendent of Police (SSP) Ajay Yadav. The trap team has intercepted the specific four-wheeler near Magneto Mall and person introduced himself as Ashok Bera. During interrogation, the person denied of carrying gold after which the car was searched and gold biscuits were recovered. "Bera failed to furnish any documents supporting the gold following which it as seized under Section 102 of CrPC.
In his statement to police, Bera said that the gold belongs to a person from West Bengal and he was bringing here to Raipur for making ornaments. Prima-facie investigation suggests that Bera was indulged in tax evasion," said SHO Sahu, adding that information about the recovery has been given to Income Tax Department. Meanwhile, Senior officials of Income Tax Department's Investigation Wing have expressed their displeasure over the non-cooperation of Raipur Police regarding the sharing of crucial information pertaining with the 2.5 kg gold haul under Telibandha police station limits on Tuesday.
It is pertinent here to mention that under routine official procedure, it's mandatory for the police department to keep the sleuths of Income Department's in loop immediately after any seizure of unaccounted cash or valuables, in gold or other kinds. This time, however, according to the sources, the Investigation Wing officials, who are yet to recuperate from the tragic loss of its Principal Director (Investigation) Alok Johri, who succumbed to Covid-19 recently, were not taken into confidence about the seizure. "Neither we were informed or alerted post the seizure of Rs 2.5 kg gold by the local Telibandha police, which is incorrect," remarked a top official of the I-T Department's Investigation Wing, requesting anonymity. According to this official, he will speak to Raipur Senior Superintendent of Police (SSP) Ajay Yadav about the incident and urge him to direct the rank and file under his authoritative command to extend much- needed cooperation to the Income Tax Department.