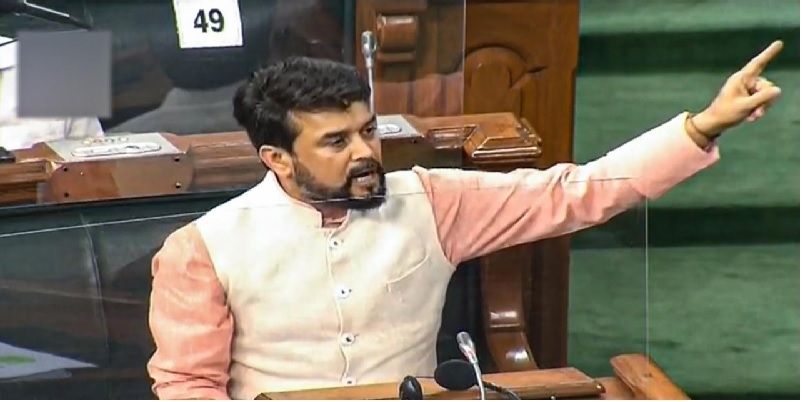 LOK Sabha proceedings resumed after repeated adjournments on Friday after witnessing four adjournments following Opposition protests over certain remarks by Union Minister Anurag Thakur. Later Thakur expressed anguish. The ruckus began during the procedure for the introduction of the Taxation and Other Laws (Relaxation and Amendment of Certain Provisions) Bill, 2020. The Congress and the Trinamool Congress strongly protested certain remarks by BJP members, including by Union Minister Anurag Singh Thakur and BJP's Locket Chatterjee. After speaking for sometime during the procedure for introduction of the bill, Finance Minister Nirmala Sitharaman said that her deputy Thakur will talk about PM-CARES Fund.
Opposition members raised concerns about the fund and while speaking, Thakur attacked the Congress and the Gandhis. He also alleged that the Congress had misused the PM Relief Fund. Thakur said that the Opposition sees everything, even good things, in a bad light. "Your intention and thought are not good," he said. Attacking the Congress, Thakur said the PM national relief fund has not been registered till now and also stressed that alleged misuse of funds needs to be looked into. When Congress members protested, Union Minister Anurag Singh Thakur said that names of Nehru and Gandhi family should be taken and alleged that the Gandhi family ruined the country.
About Opposition's concerns, he mentioned that during elections, it was said the EVMs are not working properly, and then it was about demonetisation, triple talaq and GST. Congress leader Adhir Ranjan Chowdhury said that Chinese companies have donated to PM-CARES Fund and that should also be looked into. In protest against the minister's remarks about the Gandhis, Congress members walked out of the House. When Speaker Om Birla asked the minister to stop, Thakur said that he needs more time to bring out the real face of the Opposition. Amid the din, BJP member from West Bengal Chatterjee made some remarks that were opposed by Trinamool Congress members. As the ruckus continued, Birla warned members that they should not stand up to speak and that protection of members is important.
Amid the din, the Speaker first adjourned the proceedings for 30 minutes till 4.20 pm.
After the House reconvened, Sitharaman introduced the bill and then the House took up discussion on supplementary demands. Congress members led by Gaurav Gogoi demanded an apology from Thakur for his remarks against the Gandhis. Then, Rama Devi asked BJP member Jayant Sinha to speak on supplementary demands. As he was speaking, Congress members raised slogans such as 'Anurag Thakur maafi maango' and 'Speaker saheb sadan main aaiye'. They were raising slogans while standing. Amid din, Rama Devi adjourned the House for 30 minutes till 5 pm. Later, the proceedings were adjourned twice for 30 minutes each till 6 pm. When the House convened at 6 pm, Union Minister Anurag Singh Thakur said, "I had no intention of hurting anyone but if someone has been hurt, I express my anguish."