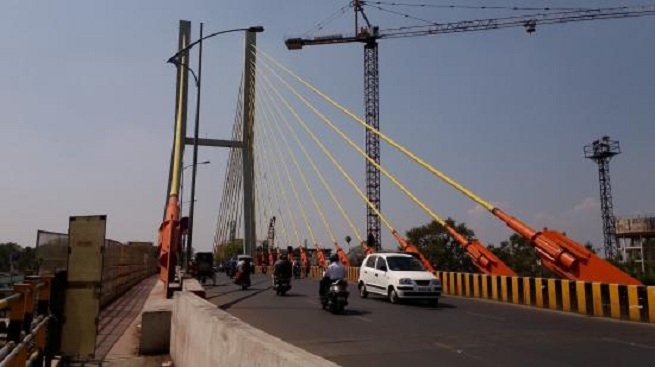 Maha Metro starts work on Rs 234 crore ambitious project of decongesting the central portion of city
Finally a solution to end the mess around Nagpur Railway Station is round the corner as Maha Metro has taken up work to extend the Ram Jhula on its Northern side. According to the plans, now the take-off and landing of the four-lane bridge will start in front of Nexa Showroom, near LIC Square. It's a deposit work of Nagpur Municipal Corporation (NMC) that Metro is executing.
Once completed it would permanently decongest the central portion of city apart from upping the property valuation of Nagpur Railway Station. At present station yard is landlocked due to problems in circulating area. But once this two to three projects entrusted to Metro takes shape, the proposed redevelopment of Nagpur Station would be most attractive property development project of city. The extension of Railway Overbridge (RoB) on Kingsway would end the logjam that led to banning of right turn at Jaistambh Square due to shortening of landing.
Town Planning experts said the situation could have been avoided as MSRDC that executed the Ram Jhula project should have anticipated the problems that would arose due to short As was highlighted by The Hitavada from time to time, city planners ayed the only available solution that of extending the landing of the cable stayed bridge beyond Jaistambh Square. As per the plan now, the length of bridge is going to be extended by 855 metres.
The extended carriageway would rest on centre pillars that would come-up on space for dividers that separate the four-lane Kingsway. Confirming the development, Akhilesh Halve, Deputy General Manager, Corporate Communications, Maha Metro, said that the bridge extension plan is part of improvement to topography around Nagpur Railway Station. Soon the demolition of fly-over opposite railway station would start for extending the width of the road to six lanes so that traffic can move at faster place. This would also smoothen entry and exit through popular Western side of Nagpur Railway Station.
The extended UP and DN side of the Ram Jhula (it replaced old Santra Market Railway Overbridge) will have a width of 7.5 metres respectively. Also ample clearance is going to be available underneath the bridge to enable clear passage for all types of vehicles, the road clearance would be off 5.5 metres, added Halve. This would ensure that even heavy vehicles, especially private and city buses can now have a through access to station road. Since the spot became a nightmare for traffic jam, civic authorities on suggestions from Traffic Control Branch straightway blocked right turn by jamming the median gap.
This unilateral action on part of civic authorities was done without public consultations that put travellers in a tight spot. The total cost of the entire project is pegged at Rs. 234 crores and entire bridge length is getting extended. Several theories were examined whether just the portion of bridge coming down to Jaistambh needs to be extended and till what length. However after weighing all pros and cons it was decided to take the landing right upto LIC Square to ensure that the traffic snarls at Kingsway T-point and later ahead at Jaistambh Square is permanently taken care off.
Metro ready for parallel RuB to Loha Pul Maha Metro is also firming-up plans for improving East-West road traffic movement through construction of new subway to inter-connect Manas Square and Cotton Market Square. Metro's General Arrangement Drawing (GAD) was sent by officials of Nagpur Division to its Central Railway Headquarters. As per the plan, there is plan to push two 6x6 boxes next to Loha Pul. The total length of subway would be 87 metres and post completion ensure straight movement of road traffic on East-West corridor.