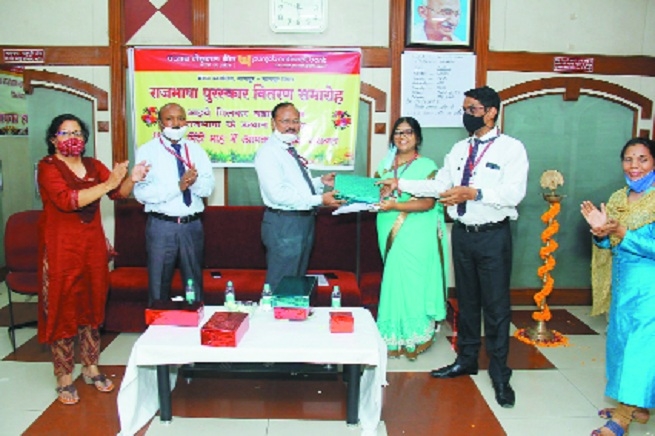 Business Bureau :
Punjab National Bank (PNB) recently observed Hindi Diwas here in the city with great fanfare. B P Rao, Nagpur Circle Head, presided over the function held in the bank's Circle office. At the outset, Mamta Warke,, Rajbhasha Senior Manager, gave detail report of the various initiatives implemened in the bank. While reading out the message of Managing Director and CEO of Punjab National Bank - CH S S Mallikarjuna Rao in front of the staff members and others, B P Rao appealed to the participants to make use of Hindi language in day to day working. He also highlighted that it is an honor for the bank to receive the "Rajbhasha Kirti" "First Prize" for the third consecutive year from Rajbhasha Vibhag, Home Ministry, Government of India. The award was presented by President of India Ram Nath Kovind.
Apart from this, the Nagpur region of the bank also won the award under the Lala Lajpat Rai Rajbhasha Shield Yojna for successfully implementing the use of Hindi language in its division. Similarly, the Mankapur branch of the bank won the first prize of Branch Office Rajbhasha Shield award; Besa Road branch won the second prize and Pratap Nagar branch won the third prize.
The Inter region Shield award was won by Audit and Inspection Department of the bank. Six staff members were also honoured on the occasion for best implementation of Hindi language. Winners of other competetions were also honoured. Sadhana Paliwal, Audit Officer; Aarti Ganvir, Senior Branch Manager; Sanjay Panda, Chieg Manager; N K Gupta, Chief Manager; Abodh Kumar, Sanjay Nikhare, Chandrashekhar Nipane and others were present.