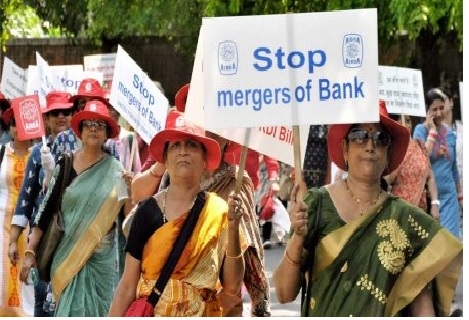 State Bank of India has introduced voluntary retirement scheme i.e. VRS. Under the scheme more than 30,000 employees and officers would be eligible for the scheme. According to eligibility criteria, employees / officers having 25 years of service and 55 years of age can apply for this.
This scheme will remain in force for 3 months from December 1. Employees/officers applying under this scheme will be given 50 per cent of the remaining service salary subject to maximum salary of 18 months in addition to the other normal retirement benefits. It is believed by the bank that this will reduce their human resource costs in addition to age equality for training, mobility, skill development etc. It is also stated that for those who could not progress in the bank, it would help them to choose other options outside the bank. The bank took this decision unilaterally, without any dialogues with the unions of the employees and officers working in the bank.
How low level of thinking is behind the implementation of this scheme of bank management, that is, today, bank management (human capital) is equating human capital with the cost of human resources.
The employees, who are over 55 years old, who are sending out of the bank through this voluntary retirement scheme, have given their whole life to this bank and today the bank has reached this height. If the bank today says that due to their exclusion, there will be age equality for training, mobility, skill development, then there is a lack in the policy setting of the bank management which points out that in time the banks have not taken the right steps to enhance their qualification. If the bank cannot reduce the number of staff officers even through VRS, then in the coming days, it is apprehended that these employees will be shown the way out by adopting other tricks. This scheme would entail low demand for new recruitment.
There is a demand from Govt that senior bank employees who have given their entire lives to banks should not be treated in this way because many bank employees have to fulfill their family responsibilities as well. Banks should take appropriate steps to train these senior bank employees, says Ashwani Rana, Secretary of Voice of Banking.