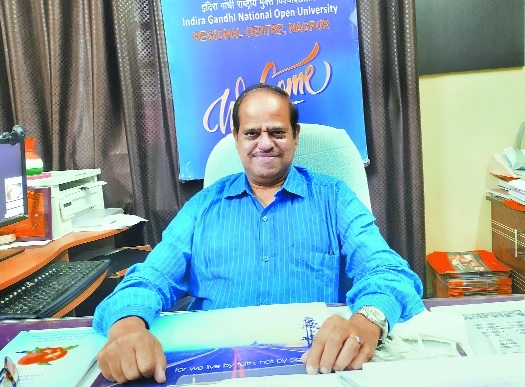 The online and offline admission process will start at IGNOU Regional Centre Nagpur from Sept 15
Highlighting the importance of distance education during the current COVID-19 crisis, Dr P Sivaswaroop, Regional Director and Member, Board of Management, Indira Gandhi National Open University ((IGNOU) said, "IGNOU has been following distance education or online education method from the beginning. All geographical barriers are broken down. Anyone from anywhere can learn. Now, all educational institutions are using digital education." This was disclosed in an interview while speaking to The Hitavada.
He said, "IGNOU is offering study from home, TV lectures, radio programme and digital mode of lectures to students for all its courses and programmes." He said, "The COVID-19 pandemic has brought a revolutionary change in education and general life. Without a fixed solution to the COVID-19 pandemic, complete opening of colleges and educational institutions is doubtful as the spread of the virus is wide reaching and in some countries it is reappearing. We cannot take it for granted. IGNOU is reaching the underprivileged students living in remote places through online education which is one of the best methods of teaching in the current situation."
IGNOU's 'Mediated Phone In Radio Programme' for prisoners in Central Jail has been recognised in an American journal as the first such innovative programme successfully conducted in the world, he said. Dr P Sivaswaroop said that more than 1.5 crore students are not going to schools and colleges due to the virus. This has severely affected education in the country. IGNOU on its part has conducted 455 lectures for various courses since the lockdown from March. On an average 7,000 students take admissions to various courses and programmes at Nagpur Regional Centre. INGOU provides live lectures and assignments through digital platforms like Facebook, Twitter, You Tube, Zoom, Google Meet etc.
The Nagpur Regional Centre will be introducing two new programmes this year like PG Diploma in Animal Welfare and MSc in Environment Science. It has 23 centres in Nagpur District and is planning to open 2 new centres in Hingoli and Wardha, he said. IGNOU offers more than 200 certificate, diploma, degree and post graduate courses. The online and offline admission process will start at IGNOU Regional Centre Nagpur from September 15. Accordingly, the examinations for final year students will start from September 17, he added.