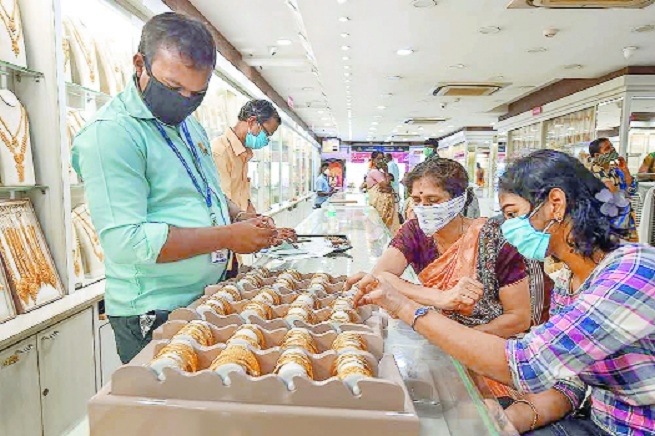 THE glittering yellow metal -- gold-- which had crossed the Rs 50,000 per 10 gram level a few months ago is now witnessing lower demand by consumers. On Monday the rate of 24 carat gold was being quoted at Rs 51,400 per 10 grams. This was disclosed by Kishore Dharashivkar, President of Nagpur Sarafa Association while speaking to The Hitavada. He said, "As the gold prices increased people avoided buying gold. This has severely affected the demand of gold in the city.
Another factor for the fall in demand is that people are scared to come out of their houses or visit the gold jewellery market due to the fear of being infected by the COVID-19 pandemic. Also, there is a steep rise in the number of coronavirus positive cases being reported in the city. Further, with restrictions on the number of people in marriages, people are not coming out to buy jewellery.
After all gold comes under luxury item." Majority of the jewellers disclosed that people have not fixed marriage dates due to the lockdown restrictions. The odd-even rule for opening of jewellery shops and one more month till the festival of Diwali in were some of the reasons for the drop in jewellery demand. Rajesh Rokde, Secretary of Nagpur Sarafa Association and Director of Rokde Jewellers said, "The demand for gold ornaments has fallen significantly as the prices have shot up above the Rs 50,000 per 10 gram level. Consumer footfalls at the jewellery shops have dropped to the great extend due to fear of coronavirus. Generally people start placing orders for the Navratri and Diwali festival during this time. But the delay in these festivals by one month due to 'Adhikmass', which will commence from September 17 to October 16, the footfalls have decreased." He further said that when the demand for gold increases during the festival period the prices will also rise automatically.
Pradeep Kothari, Director of Karan Kothari Jewellers and All India Gems and Jewellery Domestic Council said, "The gold prices are determined in international market. The demand for gold has also dropped in the international market and hence the prices are descending." Kothari clarified that during the month of February the rates were around Rs 39,000 per 10 gram and gradually it started ascending trend and crossed the Rs 50,000 per 10 gram level. "The gold prices will eventually go up and reach new high before Diwali. So this is the best time to purchase gold," Kothari further said.