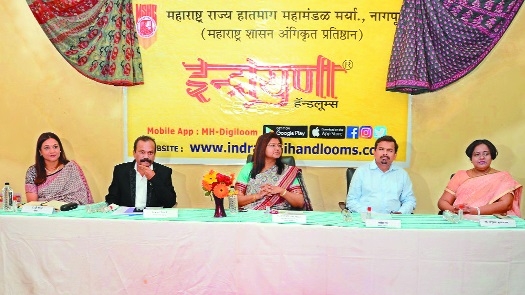 Business Bureau :
Maharashtra State Handloom Corporation is taking efforts to increase the awareness about the usage of handlooms garments so that the artisans who are working day and night should get an employment. All the garments come with silk mark and Corporation logo. There are tags of the artisans on the garments. In order to motivate the traditional art of artisans, Maharashtra State Handloom Corporation and Digital Fashion Park Pvt Ltd has launched 'Pratishthit Nari Pratishthit Saree.' The promotion of event is underway for the last three months.
The artisans, women participants, artists and organisations who had taken extra efforts to promote the handlooms garments were felicitated at a glittering programme organised recently. The event took place at the Indrayani Handlooms office situated on Umrer Road. The programme was chaired by Dr Madhavi Khode-Chawre, Commissioner Textiles Department and Managing Director of Maharashtra State Handloom Corporation.
All the participants of the 'Pratishthit Nari Pratishthit Saree' as a gift of Sankrant were given discount card. 100 per cent pure saree collection and other handlooms items like bedsheets, towel, wall hanging were displayed. Dr Madhavi Khode-Chawre in her speech underscored the need to promote handlooms garments. Vijay Nimje, Joint Director of Indrayani Handlooms took review of the progress of Indrayani Handlooms. Rajesh Londe, Director of Londe Jewellers was the guest of honour. In the year 2021, all the handlooms sarees will be on displayed. Nidhi Gandhi, fashion designer and Dr Anupama Bhute-Anand was present. Manish Karandikar of Digital Fashion Park Pvt Ltd conducted the proceedings.