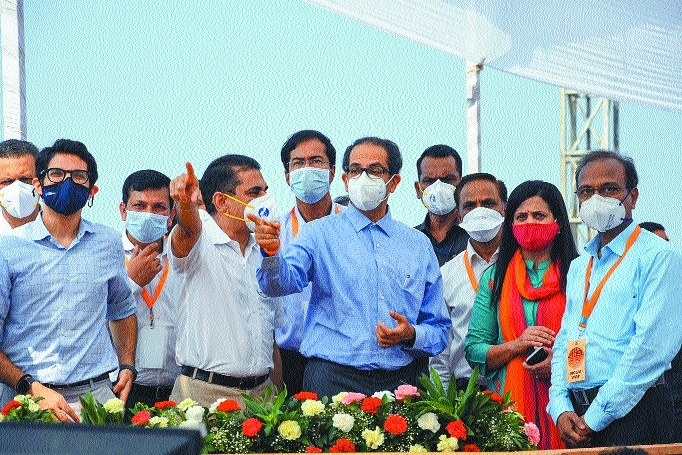 Maharashtra Chief Minister Uddhav Thackeray during inauguration of Coastal Road Tunnel Boring Machine at Priyadarshini Park in Mumbai on Monday. (PTI)
MUMBAI :
MAHARASHTRA Chief Minister Uddhav Thackeray on Monday launched a Tunnel Boring Machine (TBM), touted as the biggest in India, for the Mumbai Coastal Road Project. The TBM will dig nearly 4-km-long tunnels as part of the ambitious Coastal Road project--an under construction 22.2-km long freeway that would run along Mumbai's western coastline connecting Marine Lines in the south to Kandivali in the north. The tunnels are expected to be ready by June 2022, a senior civic official said.
"CM Uddhav Balasaheb Thackeray launched 'Mavla', the biggest Tunnel Boring Machine (TBM) in India. This massive TBM will undertake tunnel boring work for the Mumbai Coastal Road Project beginning from Priyadarshini Park to the Princess Street flyover," the Chief Minister's Office (CMO) tweeted. Soldiers of 17th Century Maratha king Chhatrapati Shivaji Maharaj were called as 'mavlas'. While addressing the TBM launch function, Thackeray recalled that the erstwhile Sena-BJP coalition Government in Maharashtra built 55 flyovers in Mumbai to ease traffic woes of citizens after coming to power for the first time in 1995.
"Now even those bridges are proving inadequate. But the Coastal Road will be useful as the people from suburbs will directly be able to travel to south Mumbai without facing the city traffic," he said. He said the Sena had conceived this sea route before 2012. "The idea was that this would be the only sea link connecting the Bandra-Worli sea link," the CM added.