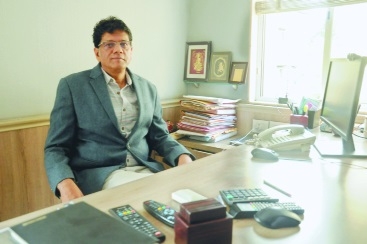 Anuj Badjate
Before entering the market, investors should gain knowledge on the working of the stock market and also learn how to read company financial statements and understand company results etc. By Ravi Chandpurkar : Highlighting the importance of how to effectively invest in stock market to first time investors, Anuj Badjate, Director of Badjate Stock & Shares Private Limited, one of the oldest and leading stock brokers in the city said, "Investors should understand that investing in stock market requires certain skills and expertise which has to be learnt over a period of time. Investing in stock market is simple, don't make it complex."
To make it simple, he suggests that first time investors should follow the 60:40 ratio formula. Investors should deploy 60 per cent of their capital in large cap companies which are well-known leaders in their sectors and have good track record. The rest 40 per cent can be invested in smaller companies which have future growth potential. The large cap companies like TCS, SBI, HDFC, Infosys, Wipro and other large institutions will create wealth over a period of time and save investors from eroding their capital even if the 40 per cent investment made in smaller companies is blown away and becomes worthless. "The 60:40 ratio formula is one of safest ways to make investments grow without eroding all of the capital. Ensure you are investing in safe companies", he pointed out. Badjate further said, "There are three simple things that investors should not do. First they should never invest with borrowed money. Second, never invest funds which have defined use for short period.
Third, don't begin your stock market investment as a trader. Gain experience and understand the risks involved and then indulge in trading." Before entering the market, investors should gain knowledge on the working of the stock market and also learn how to read company financial statements and understand company results etc. Apart from this, investors should not rely on TV channels, rumours, tips and make rash decisions. Also, investors should stay away from speculation. "Investing in stock market requires discipline. Trading in futures and options (F&O) could be suicidal as there is high risk of failure involved in these instruments," he said.
Badjate suggested that investors with small capital should avoid unwarranted risks and invest through mutual funds (MFs) or take advice from professional financial consultants. There are several safe instruments for investment other than bank fixed deposits that people are unaware of like RBI bonds which offer interest at 7.15 per cent per annum, etc. The stock markets have rallied steeply and are at all time high levels. Nobody can predict the future movement of stock market. A bull run with short lived corrections of 15 per cent to 20 per cent is healthy, he added.