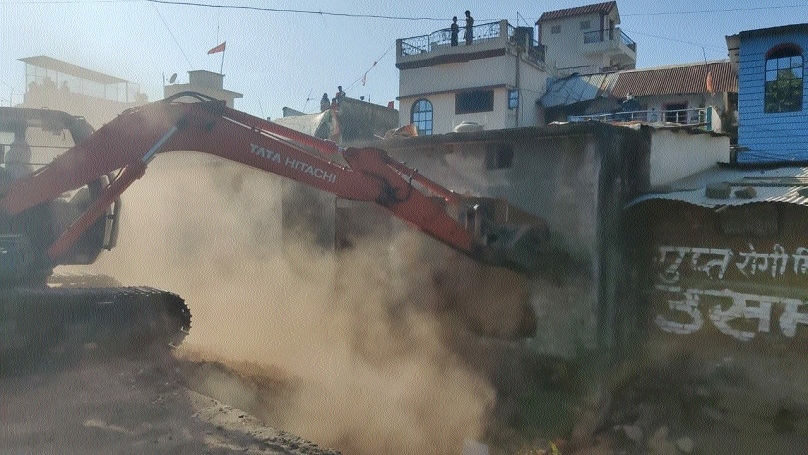 Anti-encroachment team razing illegal construction on Government land in Omti.
Staff Reporter :
Continuing the special campaign against land mafia, combined team of Jabalpur district administration and Municipal Corporation demolished illegal construction amounting to Rs 40 lakh and vacated 4,500 square feet government land amounting to Rs 2 crore, on Tuesday.
The illegal construction belonged to liquor mafia Sonam Yadav and was on Government land of Omti nullah. It may be noted that under the direction of Madhya Pradesh Government, a special campaign has been started against persons involved in black-marketing, food adulteration, land mafia, chit-fund companies and illegal money-launderers. In the special campaign, police learnt that liquor mafia Sonam Yadav had illegally constructed houses and tin shades amounting to Rs 40 lakh on 4,500-square feet of Government land.
Taking prompt action on the information, a combined team of district administration, police and Jabalpur Municipal Corporation led by senior police and administrative officers reached the spot and razed the illegal construction to clear the Government land. During the demolition, Additional SP (City), Amit Kumar (IPS) along with CSP, Omti, RD Bharadwaj and police teams from Omti, Lordganj, Belbagh and Civil Line police stations, Naib Tehsildar, Rupeshwari Kunjam, Revenue Inspector, Harshvardhan Ramteke and JMC officials were present.