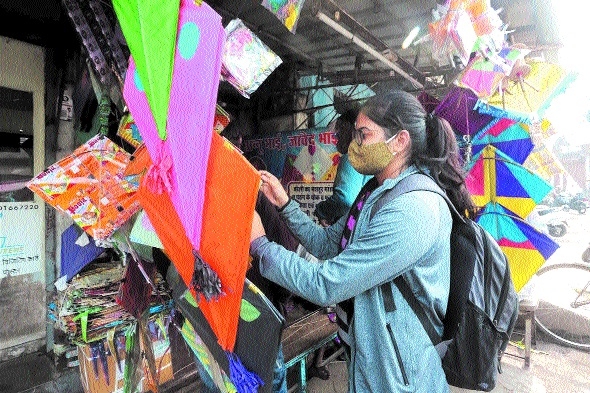 A girl purchasing kite for Makar Sankranti at a market in old city.
Staff Reporter :
With festival of 'Makar Sankranti' approaching, the markets are full of kite shops. Children are utmost excited to fly high kites on the occasion especially as due to COVID-19 restrictions they missed many festivals last year. The kite sellers Ram Kumar said that kites with prints of Chhota Bheem, Doremon and the PM Modi, are the most liked and bought ones by children. Balloons and firecrackers are also being sold but only in limited manner.
The women are making recipes of jaggery (gurh) and sesame seeds and girls are also seen engaged in kite flying this time. Rupa Singh, a college student, said that due to corona they are having only online classes and this year they have decided to celebrate Makar Sankranti with full energy as it can be celebrated with social distancing norms as well. Dr Harsvardhan, a retired Government servant, said that every year the kite lovers dotted the skyline of the city of lakes with colourful kites of all shapes and sizes on the eve of the festival and this festival with gaiety and fervour in city every year.
Even this year he is expecting that colony will organise kite flying competition with COVID-19 guidelines. National Green Tribunal (NGT) has already imposed nationwide ban the use of glass-coated manja in 2016. Government has also imposed ban on Chinese Manja which is also lethal. Even in MP, taking cognizance of a plea filed by People for Ethical Treatment of Animals, the MP Government imposed a ban on stocking and sale of glass-coated thread used in kite flying.