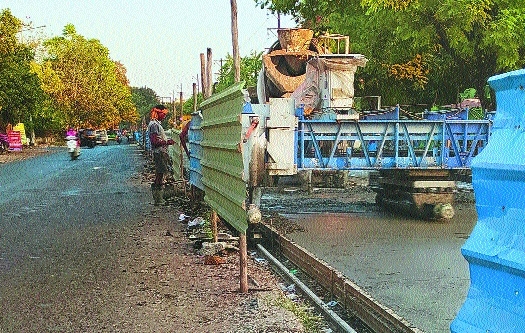 Staff Reporter :
Post talks with Mayor Dayashankar Tiwari; Municipal Commissioner Radhkrishnan B agrees to release funds for emergency and priority works with cap of 50 per cent on budgetary allocation under head of public works
Deadlock between civic administration and city fathers over stalled development works was resolved with Municipal Commissioner Radhakishnan B issuing administrative order to take-up implementation of civic budget. Mayor Dayashankar Tiwari and Vijay Zalke, Chairperson, Standing Committee, claimed that they had successful talks with Municipal Commissioner Radhakrishnan B who initiated public projects on basis of priority. Tiwari and Zalke said Municipal Commissioner concurred with the general view and granted permission for going ahead with pending and necessary public utility development works in city.
The breakout of epidemic of COVID-19 adversely affected the economic situation and has led to a sharp decline in NMC accruals putting administration in a fix even as expectations of citizens continue to grow. At present, NMC's liability stands at Rs 2394.69 crore and considering the annual budget for 2020-21, as per estimates the income is not likely to cross Rs 1700 crore. Thus the critical situation is not lost on anyone, Municipal Commissioner pointed out while explaining the tight rope walk administration is performing. Taking up new works would put additional burden and stretch the already limited finances, he pointed out to Mayor and Zalke. Mayor said that there is no denial about poor financial condition of NMC, yet emergency works need to be addressed as otherwise civic body would fail in its basic task. So after weighing all the option, Municipal Commissioner in larger interest of city authorised expenditure approved under the head of public subject to certain per centage, the circular mentioned further.
As per the circular issued by the Municipal Commissioner, up to 50 per cent of the estimated expenditure has been sanctioned in the development works fund. Accordingly, Rs 45.57 crore is proposed in the budget for public works in the ward, out of which Rs 22.78 crore will be utilised by March. Under Pandit Deendayal Upadhyay, Rs 42.28 crore is proposed in the budget, out of which Rs 21.14 crore will be utilised. For the city of Nagpur, Rs 8.44 crore is proposed in the budget, out of which Rs 4.22 crore will be provided, while Rs 13.92 crore is proposed for other works in city out of which Rs 6.96 crore will be provided directly. For road improvement and construction work, Rs. 17.31 crore is proposed in the budget out of which Rs. 8.65 crore will be provided.
Due to outbreak of COVID-19, civic administration had issued blanked stay on all works, even those that had received financial clearance from the administration. The stay caused great heart burning among corporators as their sanctioned files failed to get final assent from then Municipal Commissioner Tukaram Mundhe resulting in eruption of friction between civic administration on one side and public representatives on the other. A sort of cold war was on since that time with each of the sides fixed on their respective stance. Despite launching a tirade against the administration, corporators difficulties did not subside even as March end was nearing and it was feared funds with Nagpur Municipal Corporation (NMC) might lapse.
But Tiwari after taking over reins of Mayor moved fast and held talks with Municipal Commissioner where both the sides it seems have buried the hatchet and call by-gone be by-gones. Now considering the inconvenience and difficulties faced by the citizens due to the stagnation of development works, Mayor and Chairperson, Standing Committee, impressed upon Municipal Commissioner the needs of common man who is suffering for not fault of his. They also mentioned that why should citizens be held hostage and if civic budget remains unimplemented it would send very wrong signal. Due to slums in income, budget presented by Standing Committee was not be taken-up for implementation. However Municipal Commissioner directed civic officials to priorities emergency and essential works listed in the civic budget and those sanctioned previously thereby lifting the unofficial embargo on development works.