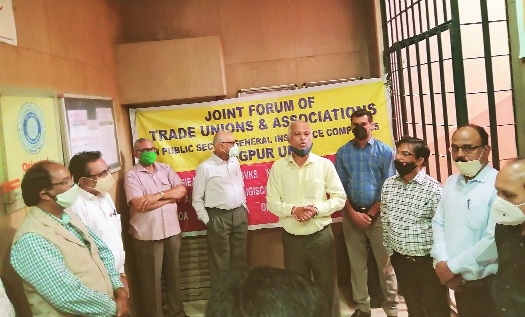 Business Bureau ;
As per directives of Joint Forum of Trade Unions and Associations ((JFTU) in public sector general insurance (PSGI) companies, PSGI employees on Tuesday hold lunch hour demonstrations at the centres of Head Office, Regional Office and other centres.
The employees agitated to achieve their following demands including immediate resumption of wage revision talks, 1995 pension for all, updation of pension and uniform family pension of 30 per cent. At Nagpur, demonstrations were held in front of Regional Office of Oriental Insurance Company situated at Nelson Square, Sadar. After demonstrations a gate meeting was organised. Rajendra Saroj of National Insurance Co. Officers Association (NICOA) and Mahendra Sawant, General Secretary of General Insurance Employees' Union (GIEU), Western Zone, who was at Nagpur addressed the meeting. Saroj said that employees should unite and struggle for their legitimate demands. Sawant congratulated agitating employees for participating in struggle.
He criticised General Insurers (Public Sector) Association of India (GIPSA), and Government of India for delaying wage revision in PSGI companies. He quoted example of agitating farmers who are carrying out their struggle against Government for more than a month and appeal PSGI employees to carry out struggle till their demands are achieved. Prashant Dixit, Joint. Secretary of GIEU (WZ) conducted the meeting. JFTU has decided to intensify struggle by organising hunger strike on January 27, at HO/RO centres, one hour walk out strike followed by lunch hour demonstration on February 3, and two hour walk out strike followed by lunch hour demonstration on February 24. Pradeep Dharamthok. Working President, General Insurance Employees All India Association (GIEAIA), Vinay Karpe, Regional Secretary, GIEU (WZ), Swapnil Kohle of United India Insurance Co. Officers Association were also present.