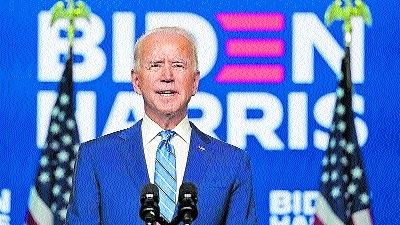 US President-elect Joe Biden has announced a USD 1.9 trillion coronavirus relief package to tackle the economic fallout from the pandemic, including direct financial aid to average Americans, support to businesses and to provide a boost to the national vaccination programme.
The relief package, announced on Thursday, includes USD 415 billion focused on combating the COVID-19 pandemic, over USD 1 trillion in direct aid to individuals and families and USD 440 billion in assistance to businesses. It includes USD 1,400 in additional stimulus cheques to Americans, an extension for key unemployment programmes from mid-March to the end of September and an increase in weekly additional unemployment assistance from USD 300 to USD 400 and increasing the federal minimum wage to USD 15 an hour over time.
Biden's proposal also sets aside USD 20 billion for a national vaccination programme and USD 50 billion to scale up coronavirus testing. "It's not hard to see that we are in the middle of a once-in-several generation economic crisis within a once-in-several generation public health crisis. A crisis of deep human suffering in plain sight. And there is no time to wait," Biden, who is set to be sworn in as the 46th President of the US on January 20, said in a televised address from his hometown, Wilmington in Delaware.
"We have to act and act now. This is what the economists are telling us. More importantly, it is what the values we hold in our hearts as Americans are telling us. A growing chorus of top economists agree that, in this moment of crisis, with interest rates at historic lows, we cannot afford inaction," he said.