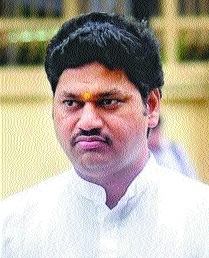 IN A relief for Maharashtra Minister Dhananjay Munde, who is facing rape allegation by a woman, his party NCP has decided to let him continue in the Cabinet post for now, sources said on Friday.
According to the sources, the decision was taken considering the complaints of harassment made against the woman by some leaders from the Opposition BJP and the MNS. Top NCP leaders, including party President Sharad Pawar, Deputy Chief Minister Ajit Pawar, Water Resources Minister Jayant Patil and senior leader Praful Patel, met here late Thursday night to discuss the issue. The meeting was held at Patel's residence.
Meanwhile, NCP President Sharad Pawar said that the party will think of any action against Munde only after the truth comes out post police probe in the matter. Pawar told reporters here that the NCP wants an ACP rank woman officer to be part of the police team that will probe the allegations against Munde.
The former Union Ministers comments came in the wake of NCP leaders holding a late Thursday night meeting to discuss the issue. Munde (45), the Social Justice Minister in the Shiv Sena-led MVA Government, has refuted the rape charges and dubbed them as blackmail attempt. BJP leader Krishna Hegde on Thursday claimed that the Mumbai-based woman had been harassing him for several years. An MNS politician, too, has made similar allegations against her.
Nobody is bigger than law, not even a minister: Deshmukh: NOBODY is bigger than the law and it will not discriminate against anyone in Maharashtra, Home Minister Anil Deshmukh said on Friday, in comments coming against the backdrop of his Cabinet colleague Dhananjay Munde facing rape allegations.
"Our police will probe the matter properly and take proper action against whoever is guilty. The legal process is on, Deshmukh said.
BJP women's wing to launch agitation against Munde: THE women's wing of the Maharashtra unit of the BJP on Friday announced an agitation against State Social Justice Minister Dhananjay Munde who has been accused of rape by a Mumbai-based woman. Uma Khapre, head of the State BJP's women's wing, said that the allegations against Munde were serious but Chief Minister Uddhav Thackeray is keeping mum on the issue. "He should have sought Munde's resignation. We have decided to start a Statewide agitation from Monday to seek the minister's resignation," Khapre said.