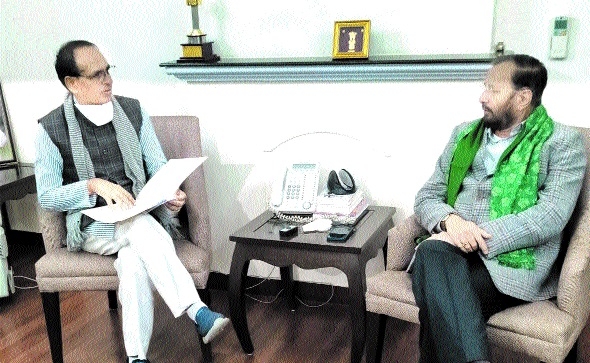 CM Shivraj Singh Chouhan having discussion with Union
Forest and Environment Minister Prakash Javadekar in New
Delhi on Monday.
Staff Reporter :
Urges extension of lease period of diamond mines of Panna
Chief Minister Shivraj Singh Chouhan called on Union Forest and Environment Minister Prakash Javadekar in New Delhi and urged him to extend lease period of diamond mine operated by NMDC in Panna district of Madhya Pradesh. Chouhan said that diamond is still in sufficient quantity in this diamond mine and it provides employment to people. He that if diamond's are obtained from mines, state will get adequate amount of revenue and large number of local people will also get employment.
Union Minister assured that labourers will not be deprived of employment and action will be taken soon. Chouhan informed that due to concrete steps taken by state government in Panna Tiger Reserve, number of tigers has increased now and today state has 140 tigers. He informed that mine is also operating without disturbing forests and environment and number of cubs in tiger reserve is also increasing.
Along with this, Amalia coal block in Singrauli district has been allocated by Ministry of Coal to HDC India Limited. Forest clearance has been sought by Government of India in this connection. Chouhan said that if forest clearance is given, coal extraction will begin giving people employment and Madhya Pradesh getting royalty revenue will also increase. The Union Minister has assured to take immediate action in this regard.