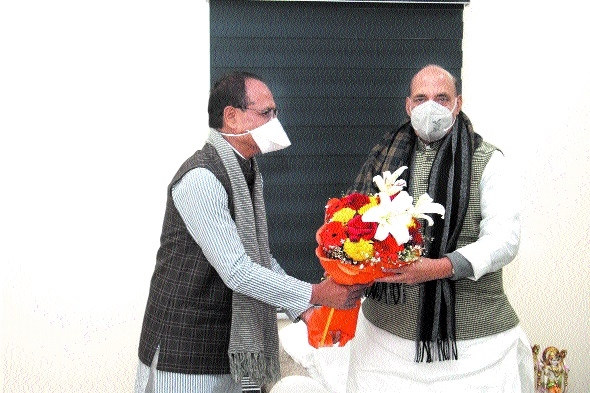 Shivraj Singh Chouhan presenting bouquet to Union Defence Minister Rajnath Singh at his residence in New Delhi on Monday.
Staff Reporter :
Chief Minister Shivraj Singh Chouhan called on Union Defence Minister Rajnath Singh at the latter's residence in New Delhi and discussed the progress with regard to opening of Sainik School in Gwalior-Chambal zone on Monday. It may be recalled that Chief Minister Shivraj Singh Chouhan had requested the Union Defence Minister in this regard earlier also. Chouhan informed that work of allotment of land is being done by Revenue Department in connection with opening of Sainik School.
He urged that till the school building and other resources are available, state government should start the operation of Sainik School at an alternate place. Chouhan informed that proposals related to Government Higher Secondary School at Malanpur Nagar Panchayat, Vidya Ashram School, Ikahara and Sarvodaya Secondary School at Gohad have been sent to the centre as alternatives.
Chouhan urged for approval of the operation of the school in alternative buildings in proposal sent to the centre till the allocation of land for Sainik School Bhind and development of infrastructure. Chouhan informed Union Defence Minister that a total of 56.685 hectares of land has been allocated for DRDO in Maharajpur area of Gwalior city.