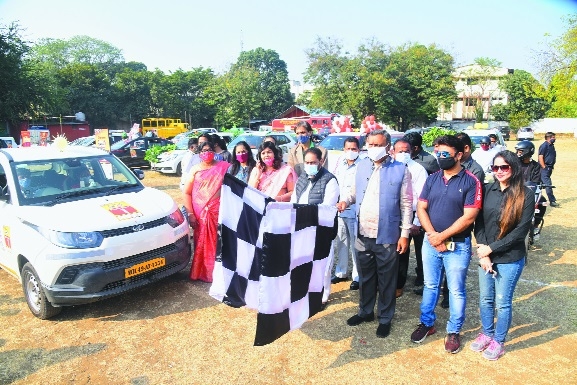 Guardian Minister Nitin Raut, Mayor Dayashankar Tiwari and other digntaries during the flag-off ceremony.
THE Family Car Rally-2021 organised by Dainik Bhaskar evoked huge response with over hundred cars (116) taking part in the mega event. The car rally, held to promote public awareness on COVID, was flagged-off by Guardian Minister Nitin Raut and Mayor Dayashankar Tiwari.
Praising the rally, Raut said that it was an apt time for hosting such an event. While commending the job of government that started vaccination drive on a large scale, Raut said the government has earned confidence of the public by taking responsibility of their health. But he added that it is also the responsibility of the citizens to take care of themselves. He urged to strictly follow the COVID protocols. With people from all walks of life wearing their traditional attire, Tiwari termed the assembly as Mini India.
To hold a family get-together event like this is a good move during these critical times, he felt. Raut also drew the lottery for lucky winners. Top prize was Rs 51,000 while there were two cash prizes of Rs 31,000 and five prizes of Rs 11,000 apart from twenty prizes each of Rs 5100 and Rs 2100. At the outset, chief guest Raut was welcomed by Sumit Agrawal, Director, Dainik Bhaskar while Tiwari was greeted by Prakash Dubey, Group Editor, Dainik Bhaskar. Other dignitaries including Ajit Parse, Richa Jain, Rajesh Rokde, SP Singh, Sargam Sahani, Shailendra Sharma, Jayesh Dawda, Bharati and others were received by Manikant Soni, Editor, Dainik Bhaskar.