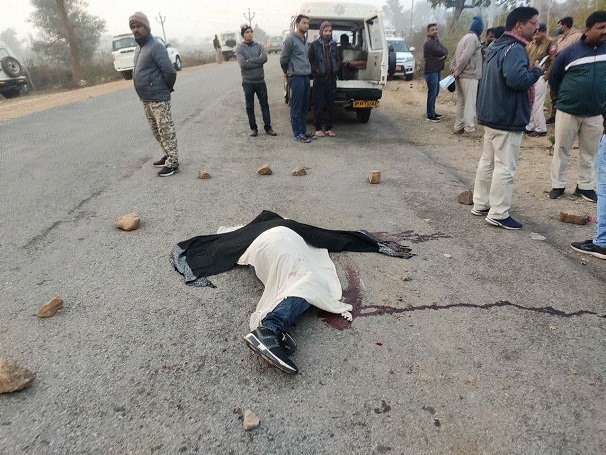 The body of the young man lying at the spot of shoot-out at Chitrakoot.
Staff Reporter :
A young man and woman were chased down in a car and shot dead at by unidentified assailants at the Gupt Godavari turning at Chitrakoot under jurisdiction of Nayagaon police station area. Police informed that Anuj Dixit (30), son of Shyamsunder Dixit, presently staying at Virat Nagar, Satna, and a native of Muskura Gehroli, Hamirpur, Uttar Pradesh state was driving an Alto car (CG 10 AE 8186). He was accompanied by his female friend Priya Singh (25), resident of same colony. They were going to Chitrakoot from Satna.
When they reached near Gupt Godavari, a car started chasing them and tried to overtake them. Then Anuj Dixit increased the speed of his car. He was being chased hence he was driving his car at high speed. Near Padraha turning, Anuj's car overturned. The car behind them also stopped and a man came out and shot the woman sitting in the car. Anuj opposed them then that assailant took Anuj at gun point. Anuj tried to flee when the assailant shot him also and fled from the spot. Nayagaon police were informed of the incident by passers-by.
When police reached the spot, they found the woman lying dead on the seat of the car and the man lying dead on the road. Soon the SP, Satna, was informed about the incident. ASP Surendra Kumar Jain reached the spot and then called forensic team and dog squad. Two police teams have been dispatched to make breakthrough in this sensational case. Large police was deployed at the spot of the incident. Police have come to know that deceased Anuj was working as Manager in Bhatia Liquor Company and the woman was his female friend.