The Hitavada Team :
All major parties claim to have got upper edge in district n Political heavyweights retain their dominance in respective areas
The results of elections to 127 Gram Panchayats (GPs) in the district were declared on Monday. However, which party won how many seats in which GPs was not fully clear. For, all the major parties claimed to have won the maximum number of GPs in the district. In effect, it was a 'claim Panchayat' as far as election results were concerned. However, one important face of the GP election results was the political heavyweights retaining their dominance in respective areas. Of total 130 Gram Panchayats scheduled to go to polls in district, only 127 went to polls.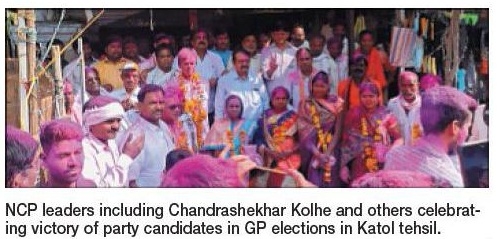 For, elections to two GPs namely Sonpur in Kalmeshwar tehsil and Jatamkhora in Saoner tehsil was unopposed. And, election to Deoli Kalal in Kuhi tehsil was suspended. On January 15, polling was held for 127 Gram Panchayats. The district recorded 74.89 per cent polling in these elections. GP elections are not contested on party symbols. Besides, mostly local issues and local reputation of contestants matters in these elections. Shiv Sena, Nationalist Congress Party (NCP), and Congress -- the alliance partners in Maha Vikas Aghadi (MVA) Government in Maharashtra -- claimed to have won the maximum number of seats. Bharatiya Janata Party (BJP), on the other hand, claimed that it had won the maximum number of seats despite fighting alone against the three-party MVA alliance. Arvind Gajbhiye, District President of BJP, stated that BJP had won 'clear majority' in 73 out of total 129 GPs in district. "BJP contested the elections on the plank of development and earned big success.
The people have reposed their faith in the leadership of Nitin Gadkari, Union Minister; Devendra Fadnavis, former Chief Minister; Chandrashekhar Bawankule, former Guardian Minister; and Arvind Gajbhiye," read a statment circulated by BJP. As per the data circulated by BJP to media, the tehsil-wise tally was as follows: BJP won nine out of total 22 GP seats in Katol tehsil, Kamptee -- 20 seats (14 to BJP), Ramtek -- 19 seats (06 to BJP), Hingna -- 10 seats (06 to BJP), Umred -- 42 seats (30 to BJP). Total 113 seats -- 65 to BJP. Rajendra Mulak, District President of Congress party, claimed that Congress had inflicted a big defeat on BJP. According to Mulak, of 129 GPs that went to polls in the district, Congress had won in 83, followed by BJP winning 25, NCP winning 14, Shiv Sena winning five, and other panels winning two. Gangadhar Revatkar, District Vice-President of Congress, stated that Congress leaders and workers came together and this resulted in the massive win for the party in GP elections in district. Rajendra Mulak, District President of Congress; Dr Nitin Raut, Guardian Minister of district; Sunil Kedar, Animal Husbandry Minister, and others steered the party to victory, stated the press release. NCP claimed to have recorded a 'clean sweep' in case of GPs in Katol and Narkhed tehsils, which form the Legislative Assembly constituency of Anil Deshmukh, Home Minister of Maharashtra. NCP claimed that the party had won all three GPs in Katol tehsil and 16 out of total 17 GPs in Narkhed tehsil.