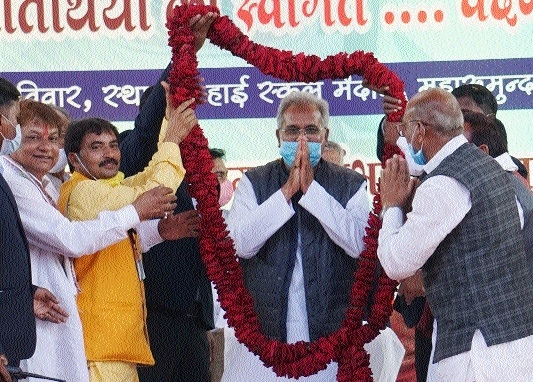 CM being welcomed by the members of Sahu community.
The Hitavada State Bureau :
Mahasamund/Raipur,
Telghani Board will be constituted in Chhattisgarh, this was announced by Chief Minister Bhupesh Baghel, while addressing the divisional level youth introduction conference, magazine release and felicitation ceremony of Sahu community in Mahasamund. With the formation of Telghani Board, people associated with this work will get a new identity and the initiative will generate new employment opportunities. Chief Minister Baghel said that the Sahu community is a progressive community. This community has always done pioneering work in education and other social fields. The quality of all the communities of our State is that they adapt themselves to every situation. The Chief Minister while announcing the formation of Telghani Board, said its formation will generate employment opportunities for the people in rural areas.
The Chief Minister on the demand of the Sahu community also announced a grant of Rs 20 lakh each for construction of social buildings in all five districts of Raipur division including Raipur, Mahasamund, Dhamtari, Gariaband and Balodabazar. Addressing the programme, Chief Minister Bhupesh Baghel said that the Sahu community has always shown direction in terms of social awareness. Even during the COVID-19 pandemic period, all sections of society came forward including the Sahu community and performed their social responsibilities well. Everyone deserves congratulations for this. The programme was presided over by Home Minister Tamradhwaj Sahu. For the first time, a divisional level programme was organised by the Sahu community from Mahasamund district.
Former Minister and MLA Dhanendra Sahu also addressed the programme. Khallari MLA Dwarkadhish Yadav, former Minister and Abhanpur MLA Dhanendra Kumar Sahu, State President Arjun Hirwani, Motilal Sahu, Mahasamund MLA Vinod Chandrakar, Basna MLA Devendra Bahadur Singh, Saraipali MLA Kismatlal Nand, Kasdol MLA Shakuntala Sahu, Chairman of Backward Classes Commission Thaneshwar Sahu and other public representatives and community heads were present.
On the occasion the Chief Minister released three books including the Noni-Babu Introduction Book of Sahu community, Sirpur Historical Heritage and Hamar Police Hamar Sang. The Chief Minister also inaugurated the program by lighting a traditional lamp before the idol of Mother Goddess Karma of the Sahu community. The Chief Minister and the guests also honored the individuals who did outstanding work in social work. Presiding over the programme, Home Minister Tamradhwaj Sahu said that to remove the evil of any society, first of all it is necessary to improve oneself, then only the society can improve. When we improve ourselves only then we will be able to build a good society. People of our society should take special care of people from weaker sections and should work to promote them.