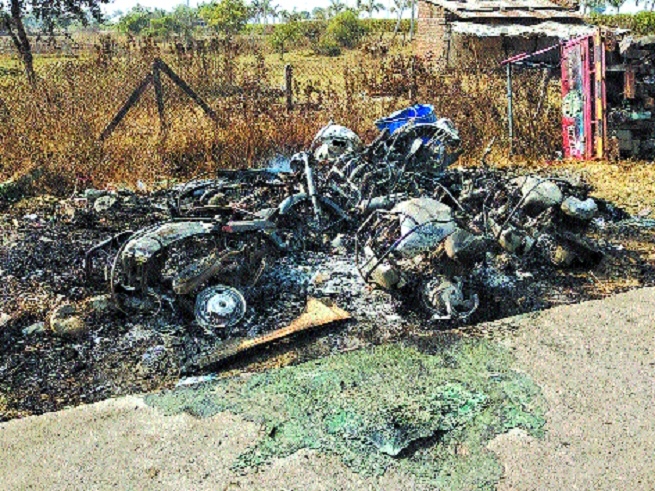 The motorcycles that were set afire by women at Yerla village.
Staff Reporter & Kalmeshwar Correspondent :
The women got furious after the alleged liquor smugglers attacked two youths at Yerla
A group of women set five motorcycles of alleged liquor smugglers afire in Yerla village after they assaulted two youngsters on Sunday. The accused are allegedly involved in smuggling of liquor and the women are demanding stern action against them for last few months.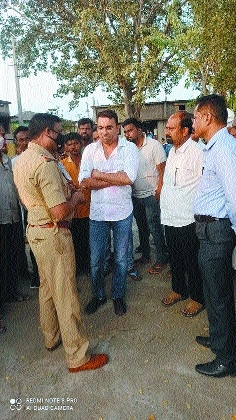 MLA Sameer Meghe taking a stock of situation with
police personnel.
The villagers also resorted to Rasta Roko on Monday following the incident. According to villagers, Sachin Suryabhan Wadhi (27), a resident of Yerla village and Akhil Rambhau Badki (23), a resident of Fetri village, were injured in the attack. Anand Verma, Golu Verma, Aminesh Verma, Manish Verma, Lala Yadav, Sahil Dhone, Hemant Mondhe, Aman Shewale and four others, all residents of Yerla village are the accused. Complainant Akhil Badki received an information that his friend Wadhi was being attacked by the accused at Savera Jhunka Bhakar Kendra at Borgaon turning on Sunday night. Badki went to the spot but did not find Wadhi there. He then moved near the gate of Saccho Sataram Ashram with four persons at 9 pm where he spotted Anand Verma and other accused persons. The accused were armed with sticks and other weapons.
When Badki questioned Anand Verma for assaulting Wadhi, he got angered and a fight broke out between them. The accused attacked Badki and his friend with sticks. Injured Badki and others approached Kalmeshwar Police station and lodged a complaint against the accused. Soon after the news of attack spread in the village, the villagers including a large number of women gheraoed houses of the accused persons and set their motorcycles afire. On Monday morning, the villagers resorted to Rasta Roko demanding immediate action against the liquor smugglers. MLA Sameer Meghe paid a visit to the village and discussed the situation with police officials.
Police Inspector Asif Sheikh of Kalmeshwar Police Station said that the first fight broke out between the accused and Sachin Wadhi over a bill. The accused had gone to the Jhunka Bhakar Kendra where the owner urged Sachin Wadhi to make a bill of the accused persons. The accused objected Wadhi for making their bill and slapped him, the PI said and added that cases were registered against both groups.