Staff Reporter :
Civic body team conducts panchanama
Maha Metro denies any illegal felling of trees
The controversy over 'Bharat Van' erupted once again after citizens and some environment activists of the city on Tuesday raised question against illegal felling of trees near Futala lake for construction of some infrastructure under the Futala lake beautification project. Maha Metro is constructing a musical fountain and a viewer gallery at the lake under the beautification project. Maha Metro is also widening the parallel road under the same project. The Garden Department of Nagpur Municipal Corporation (NMC), on Wednesday, conducted 'panchanama' of the spot and found that illegal felling of trees was done for the project.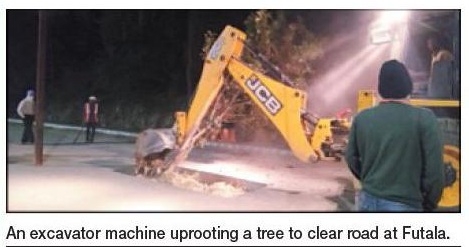 "The number of trees that were hacked by the contractor for construction of infrastructure is unknown as they have cleaned the area. But, we are issuing a show cause notice to Maha Metro in this regard," said Amol Chourpagar, Garden Superintendent, to 'The Hitavada.' "We had no information about the felling of trees at the spot. But we are now taking action against them," he added. Jaideep Das, former Honorary Wildlife Warden and environment activist said, "We noticed this illegal felling and informed NMC. With this illegal felling the Bharat Van issue again loomed over." Illegal felling of trees are going on everywhere in the city and NMC is unaware every time.
They must be more vigil to curb such illegal activities, said Das. According to Das, the felling of trees took place for construction of parking lot of Futala lake. However, Maha Metro is unaware about any illegal felling of trees at Futala lake. "Not a single incident in Nagpur took place so far when a person who illegally felled trees has been punished by the authorities. NMC will issue notice against the tree felling and no further action will be initiated by their side," said Kaustav Chatterjee, Founder, Green Vigil Foundation. He said, "NMC must take stern action against culprits instead of issuing notices to them."